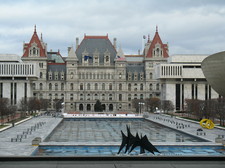 NYPIRG released its round up of end-of-session state legislature stats today. It's total political nerd food. A few bits:
+ The legislature passed 650 bills in both chambers. That's up a bit from last year, but it's not out of step with the long downward trend that's been going on since the average number peaked during the administration of Nelson Rockefeller -- during which an average of 1,356.20 were passed.
+ More than half of bills passed in the Senate did so with not a single nay vote. In the Assembly, 42 percent did so.
+ Almost half of all the bills passed by the Assembly were passed during the last week of the session. In the Senate, 36 percent were passed in the final week.
+ Andrew Cuomo got a lot of criticism for issuing "message of necessity" to speed along passage of the NY SAFE Act. He ended up using tactic on just two other bills during the session. That is a very low number compared to the annual average since 1995: 70.4 (and that includes just five during the previous session).
+ Senator Kevin Parker led the legislature in the number of bills introduced (406). Assemblyman Jose Rivera was the only legislator to not introduce a single bill.
+ Teaming up: Three local legislators were among the leaders in the highest percentage of bills introduced with a same-as bill in the other chamber -- Pat Fahy (100%, 15 bills), Cecelia Tkaczyk (96%, 25 bills), Kathy Marchione (87.5%, 32 bills).
+ Neil Breslin led the legislature in the number of resolutions adopted: 304 -- 37 more than the next person.
+ In both chambers the top 10 rankings for members who voted "no" on bills are dominated by party members not in the majority -- except for one: state Senator Greg Ball, a Republican, who topped state Senate chart.
+ The leading vote misser: Assemblyman William F. Boyland Jr, who missed 74 percent of all votes.
+ Votes recorded as absent/no vote taken by local legislators:
Senate: Marchione (5), Breslin (1), Farley (1), , Tkaczyk (0)
Assembly: Jordan (123), McLaughlin (55), McDonald (35), Santabarbara (10), Steck (2), Fahy (0), Lopez (0), Tedisco (0)
+ Senator Liz Krueger (D) was by far the leader in number of words spoken in floor debates in the chamber at 40,064 words -- 13,658 more than the next person, Tom Libbous (R). Libbous got most the laughs (according to the official record) -- 38.