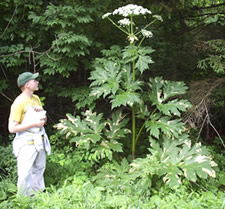 After reading about giant hogweed, we were starting to think we might have to add it to our list of dangers in nature that we will overly obsess about. From the NYS Department of Environmental Conservation info page about the invasive plant, which is native to the Caucus region of central Asia:
Giant hogweed is a biennial or perennial herb in the carrot family (Apiaceae) which can grow to 14 feet or more. Its hollow, ridged stems grow 2-4 inches in diameter and have dark reddish-purple blotches. Its large compound leaves can grow up to 5 feet wide. Its white flower heads can grow up to 2 1/2 feet in diameter. ...
Giant hogweed (Heracleum mantegazzianum) is a Federally listed noxious weed. Its sap, in combination with moisture and sunlight, can cause severe skin and eye irritation, painful blistering, permanent scarring and blindness. Contact between the skin and the sap of this plant occurs either through brushing against the bristles on the stem or breaking the stem or leaves.
The DEC has helpfully post a page with a bunch of photos of the plant, which is apparently flowering right now -- as well as some graphic photos of skin burned by the plant's sap. It recommends that if people suspect they have hogweed on their property, to take photos from a safe distance and send them in for ID, after which DEC will follow up.
So... yikes.
But then we saw the map of reported active plant sites around the state. The plant has only been spotted in a few spots around the Capital Region. (In related news: Oof, that really sucks for you, western New York.)
Now, at least for the time being, we can keep giant hogweed on our ok-good-to-know list and go back to obsessing over ticks carrying Lyme disease, rabid foxes, and the snapping turtle in Buckingham Pond that ate a Golden Retriever. (OK, one of those things might be a myth.)
photo: NYS DEC
Hi there. Comments have been closed for this item. Still have something to say? Contact us.