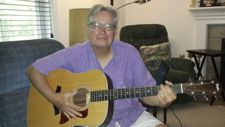 WEXT's My Exit is back for the summer season -- where listeners get to pick the music.
This week, Joe Hamilton gets "proggy."
Who?
I'm Joe Hamilton and I am thankful to WEXT for inviting me to be a guest DJ for this week's My Exit. I live in Clifton Park, I have a wonderful wife (Donna) and two great kids (Brian and Matthew). We all love music, Donna and I still enjoy nights at home listening to music rather than watching the tube. Our record collection when we met was a perfect match. She was listening mostly to US artists from Motown, Southern rock, San Francisco bands and Americana and I was into the UK bands. I married her because she doubled my record collection!
How would you describe your taste in music?
My taste in music has certainly matured as I have. In my early years, I enjoyed the brass and jazz/blues influenced bands such as Chicago Transit Authority and Blood Sweat and Tears. Then moving into my narrow vision years of "if the music isn't complex I don't much listen to it," or the prog rock years. Thankfully there's not much I don't like these days. I enjoy music from The McKrells to The Clash, from Radiohead to Patsy Cline, the Decemberists to Tommy Dorsey. And I still love prog rock!
Joe's My Exit:
This My Exit, which I titled "Let's Get Progy," is an homage to early FM rock radio and specifically early 1970s WRPI and progressive music or "prog rock." WRPI was the WEXT of my generation. They were a non-commercial free form station playing a good deal of prog rock, as well as the other stuff you weren't hearing on any other local stations in the early 70s (Hendrix, Grateful Dead, the longer songs off The White Album, etc ). I found it interesting that when a local commercial station got a ratings report in the early 70s, it showed that a large part of the demographics were missing. When they looked into it they found out that WRPI (at the time the only FM rock station in the area) was the # 1 FM station in the Capital District!
Because WRPI was a college station they weren't counted in the ratings. Of course this showed the commercial broadcasters there's money to be made locally with FM rock stations. FM wasn't just for classical music anymore! WEXT is what WRPI was for their time. The difference being WEXT needs our support to keep making a difference in the 518! Frankly it would be unfortunate if we lost EXT. Not only for the "diverse and eclectic" music but also for what they do for the local music scene. It's surprising how many people still don't know about WEXT! Besides our financial support they need our public support! Keep the word of mouth going! Someday if the music gods will allow WEXT will get a more powerful signal. They need it, we need it! Lake George is still out of listening range, even late at night, on an island, I'll get to that later!
"Theme One" - Van Der Graph Generator
Van Der Graph Generator's "Theme One" opens the show. This was one of WRPI's DJss opening to his Pro Rock Show and it always stuck with me as a great opening theme song for a prog rock Show or a TV show or anything that needs a theme song!
"Every Little Thing" - The Beatles
I found a rocking live BBC recording of a 1970ss cover of The Beatles' "Every Little Thing" form prog rock pioneers YES. This is a different, more instrumental version than the cut on their first US self titled album. It shows early on how YES will be dedicated to a different sound with strong musicianship at the forefront.
"Baby's on Fire" - Brian Eno
Brian Eno has always been, and still is, one of my favorite artists and composers. I play "Baby's On Fire" a song noted for Robert Fripp's (King Crimson) guitar solo. I love that solo! A pioneer and original thinker in music he's done everything and everything well from prog to punk to glam/art to ambient, from instrument treatments to producing the likes of Bowie's (some say his best) albums. Also a producer of U2, Talking Heads, Coldplay, Blondie, James. He's worked with the likes of Luciano Pavarotti to John Cale. I truly believe, someday, probably when we're all long gone Eno will get his props for being an all time great diverse musical artist. Oh, also, he did the little start-up theme for Windows 95!
"San Tropez" - Pink Floyd
How can you do a prog rock show and not play a Pink Floyd tune? I remember hearing this late at night for the first time while camping with friends on a Lake George island. We were finally able to get WRPI on the radio and they played San Tropez. San Tropez may have been the first song I ever heard from Pink Floyd. I fell in love with the texture, the happy beat (what a day on San Tropez beach was supposed to feel like). Dave Gilmore's slide guitar and Richard Wright's piano were fitting additions to the song Roger Waters brought to the studio already recorded.
"Carpet of the Sun" -- Renaissance.
If it not for the magical voice of Annie Haslam and the band Renaissance it may have been many more years before I ventured away from guy bands. I probably wouldn't have picked up Carole King's Tapestry. What a loss that would have been! Thank you Anne! Though they weren't known for short songs I play one of their few, their prog rock classic "Carpet Of The Sun."
Hope you'll tune it in or stream it in!
You can hear Joe's My Exit show Monday night at 11 pm on 97.7, Saturday at 8 am, or at exit977.org.
Here's how to schedule your own My Exit show on WEXT.