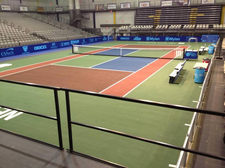 World Team Tennis is back at UAlbany's SEFCU Arena this week with a matchup Tuesday that features Andy Roddick. The former world #1, now retired, will be playing for Springfield Lasers against the New York Sportimes, which use UAlbany's arena as their home court. (No, we don't know what a Sportime is.)
The headline player for this year's Sportimes is John McEnroe. He's scheduled to play here in Albany July 18.
Another notable player on the local slate was Sloane Stephens, originally scheduled to play July 15. But the rising American player -- ranked #16 in the world -- announced Sunday that an injury will keep her out of the season.
Tuesday's match is the Albany opener for the Sportimes, and there will be four (or five) more matches there during July. World Team Tennis is sort of like what it sounds like -- teams play five sets, with each set featuring different configuration: singles, doubles, and mixed doubles.
Tickets for the matches at UAlbany are $39 and up.
photo: New York Sportimes