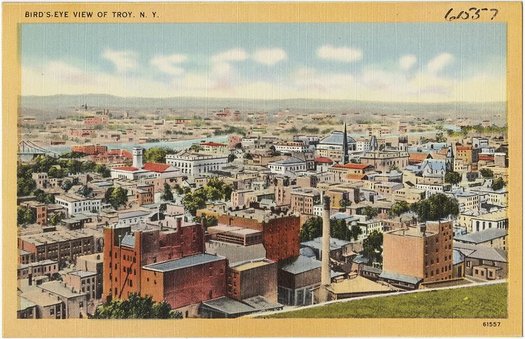 We happened upon this collection of old postcards -- including cards from the Capital Region -- from the Boston Public Library not once, but twice this week. And after the second time, we figured we pretty much had to do something with them.
All the postcards are thought to be printed between 1930-1945. Some of the cards depict places that no longer exist. And even the cards that show places still standing probably present a version of that place that never truly existed -- the backgrounds de-cluttered, the landscaping manicured, the scenes mostly devoid of people. It's the past as it was idealized by someone then.
The collection includes postcards from different spots around the area. So we decided it'd be fun to periodically pull a handful from a spot, map the locations depicted, and match them with the current streetview.
First up: Troy.
The postcards are in large format above -- scroll all the way up.
The Boston Public Library has posted its postcard collection on Flickr -- and it's searchable (example: Troy). It also has defined a New York State set of cards.
The images are all Creative Commons licensed.
One of the places we came across this collection: Hoxsie, where Carl has been highlighting postcards from Saratoga Springs this week.

Hi there. Comments have been closed for this item. Still have something to say? Contact us.