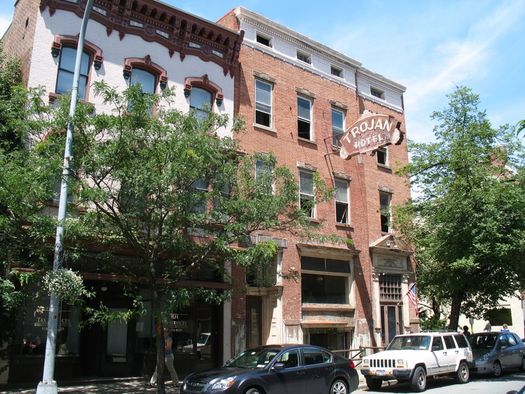 The Trojan Hotel building in Troy -- part of which has stood on 3rd Street downtown since the 1800s -- was sold this week. The new owners: Terry and Donald O'Brien, who have a lot of plans for the building -- including a pub, a bar, and an apartment for themselves.
We were invited to have a look at the building today, so we stopped by to take some photos of the historic building and talk for a few minutes with the O'Briens.
There are large-format photos above -- scroll up.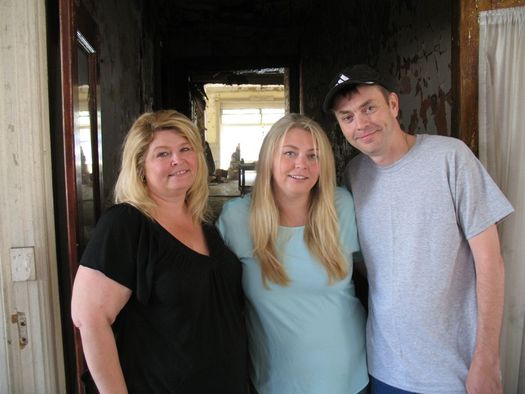 Terry O'Brien, daughter Ali O'Brien, Donald O'Brien.
Terry and Donald O'Brien -- along with their kids, Ali and DJ -- recently closed O'Brien's Public House in Lansingburgh after an almost two-year run. The pub's building was sold, and the O'Briens decided it was a good time to move both their business and residence downtown. (Their home in Lansinburgh was badly damaged in a fire last September.)
So why pick a building that's been vacant for 10 years, and needs a lot of work?
"It means a lot to us," Terry explained today while standing in the hotel's former ballroom, which is slated to become the dining room for the new O'Briens Public House. Donald's parents first met at the Trojan, had their wedding reception there, and a 25th anniversary party. And his godparents owned the building for a while in the 1960s. Terry continued: "We love this place. It feels like home."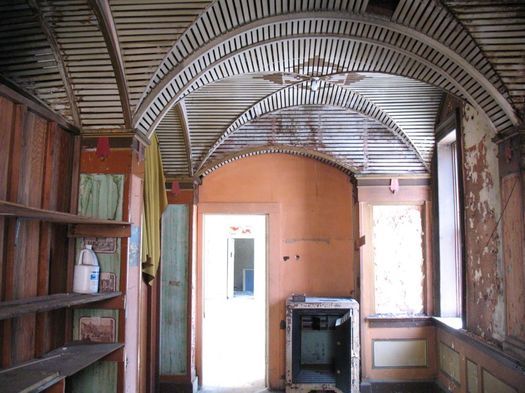 The O'Briens say they paid $100k cash for the building, and figure the whole project will cost $500k -- a tab that will have to include a lot of sweat equity.
The plan is to renovate in phases. The first stage will be getting the first floor rehabbed and ready to open as the pub this fall. After that, it'll be getting the basement bar fixed up to serve as the Trojan Tap Room. Then they'll focus on the upper two floors of the front building for apartment space for themselves. And sometime after that, they'll focus on the back building -- which dates to 1915 and includes the former hotel rooms. They've been talk with local developer Jeff Buell about maybe turning that space into self storage for Troy's growing downtown apartment population.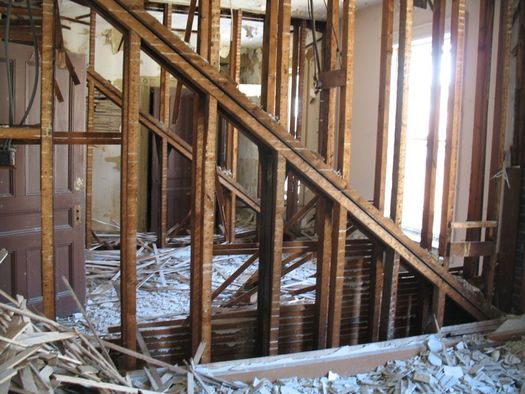 It's going to be a big project. The O'Briens are confident the building has solid bones -- iron, to be exact. But it's going to need a lot of love to deal with the effects of years of neglect, and some rather haphazard previous demolition and salvage efforts (example: all the cast iron radiators were ripped out).
"Anyone who takes on any rehab project like this... there's a certain amount of insanity that, for lack of a better term, that comes with it," Donald said today.
"But it's worth it in the end," Tammy added. "Because it's our future. It's our children's future. Hopefully their children's future. It's something you can keep. Instead of having this property call to the demolition ball, we're bringing life back into Troy."
The Trojan Hotel project is one of a handful of recently announced efforts to transform vacant, rundown properties in downtown Troy into productive new uses. Vic Christopher and Heather LaVine, who created the Confectionery, are working on a reno of 207 Broadway -- just across a parking lot from the Trojan -- that includes a small grocery store. Buell and Chris Colwell are developing nearby 9 First Street -- vacant since the 1990s -- into lofts.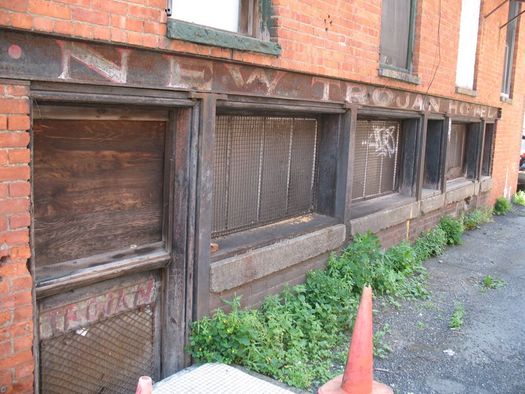 "You always here people say when something's demolished or something's run down so bad, 'Oh, what a shame that happened,'" said Donald. "Well, the only way to stop it is to jump in, purchase something, and invest your time and your money and make it productive again."
And that's what the O'Briens hope to do at the Trojan Hotel. They have their life's savings riding on it.
Said Terry: "Our heart's always been in Troy. We've lived in Troy all our lives. We were born here. We chose to raise our children here. Our heart is here. We love Troy."
____
The O'Briens have started a renovation fund for the building, to which people can contribute. Sort of like with Kickstarter, there are rewards for contributing -- from stickers, to a spot in "Mug Club" planned for the hotel's old key rack, to parties.

Find It
O'Brien's Public House planned (former Trojan Hotel)
43 Third St
Troy, NY 12180
Hi there. Comments have been closed for this item. Still have something to say? Contact us.