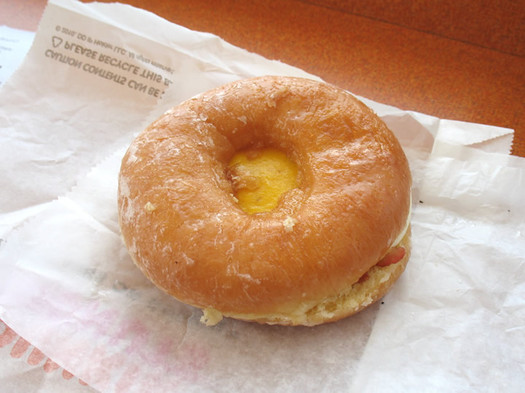 From the continuing, if irregular, series of trying things so you don't have to: the "Glazed Donut Breakfast Sandwich" from Dunkin' Donuts.
After passing posters for the egg-and-bacon-on-a-glazed-donut sandwich multiple times after its recent introduction, we stopped in yesterday to give it a shot.
And we lived to tell about it -- to you.
The sandwich is pretty much like what it sounds like: egg and bacon on a glazed donut that's been split crosswise into two halves like a bagel. But the DD description promises a bit more:
We've gone and changed breakfast forever. Again. Bite into this smorgasbord of bacon slices and pepper fried egg, sandwiched by a Glazed Donut.
Well, we can clear up a few things right away: there's nothing smorgasbord-y about this sandwich. And we're confident breakfast remains unchanged.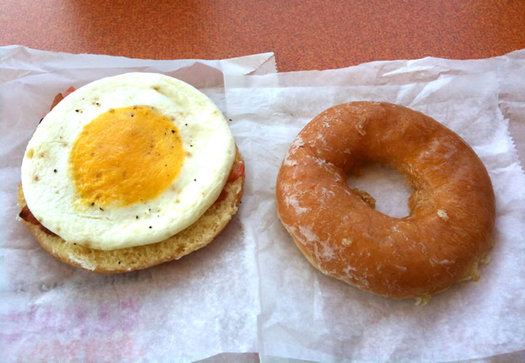 Here's the how the sandwich breaks down:
Donut
The donut for our sandwich came right out of the basket of regular glazed donuts behind the front counter. It appears the whole thing is then assembled -- bottom donut slice, bacon, flat "fried" egg, donut top -- and heated in an oven. The sandwich comes out in a paper pouch (like the other breakfast sandwiches) and is warm all the way through. As a result the glaze on the donut is sticky -- like, you're going to need a bunch of napkins. The donut itself also becomes a bit more bready in texture because of the heating. It's not as satisfying as a bagel or toast in this situation, in part because of the lack of crunch.
But, on the whole, the donut doesn't end tasting too bad like this. DD's donuts can range from bad to yeah-OK-that's-not-bad when fresh, and the glazed donuts are usually among the best picks.
Bacon
The bacon is a few short strips -- very flat, and very crispy. It doesn't really have a pronounced "bacon" flavor, it's a bit salty more than anything. But its presence on the sandwich isn't weird, even in concert with the donut. At this point, sweet and bacon is almost a classic combo. (How many dishes have been inspired by the maple syrup from pancakes finding its way onto the nearby bacon?)
Egg
The egg is the weakest of the three components. Presumably the flat egg (it sort of reminded us of a tiny vinyl record, or maybe a saucer) is already cooked and just warmed up. It has the texture of a fried egg, absent some of the crunchy edges, it just doesn't taste like much -- even the yolk area in the middle. This is remarkable in that:
1. There's supposedly black pepper on the egg. We found a few specks, but they didn't register as pepper.
2. The egg includes, according to the Dunkin' Donuts website, "Natural Sauteed Flavor" -- composed of "Soybean Oil, Medium Chain Triglycerides, Natural Flavor." It also has "Artificial Butter Flavor."
Going into this, we figured the egg could be the odd ingredient out in this trio. Bacon and eggs = good. Donut and bacon = sure, why not. Donut + eggs = maybe not. But given that it didn't really taste like egg, it didn't end up being a problem (if that's the way to look at it).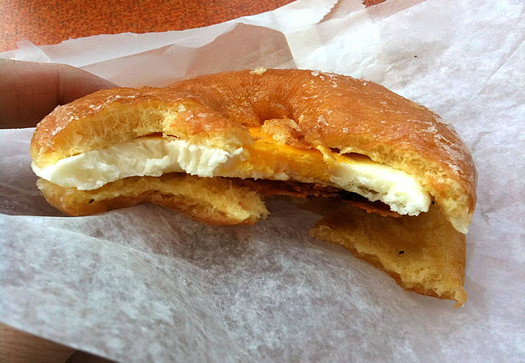 All together
The sandwich is $2.99. And it clocks in at a reasonable 360 calories, hardly a caloric explosion. Though it does have 20g of fat (8g saturated) and 30 percent of the daily recommended sodium intake.
That said, our biggest complaint was the lack of flavor for those calories. There was glazed donut and not much else. Better egg and bacon might have helped. And we thought while eating it that we would have liked to hit it with some hot sauce.
Bottom line: The glazed donut breakfast sandwich isn't all that bad. It just wasn't all that good, either. But we easily ate the whole thing.
And then we tried to wipe the glaze off our fingers. This thing should be served with a wet nap or something.
Earlier on AOA: Braving the pancake bites
Hi there. Comments have been closed for this item. Still have something to say? Contact us.