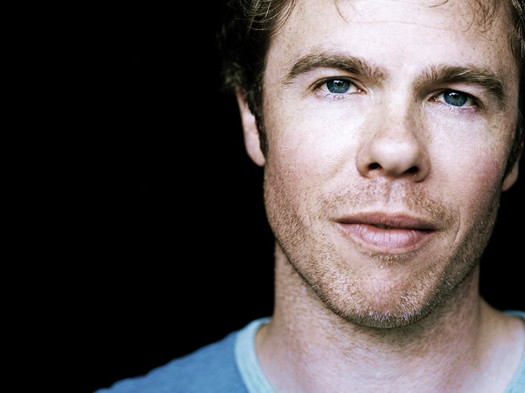 The Troy Savings Bank Music Hall has announced the slate for its 2013-2014 season. Among the highlights: Josh Ritter, Angelique Kidjo, Rosanne Cash, and Jim Breuer.
Tickets went on sale today (July 17).
Full slate after the jump.
Descriptions from Troy Music Hall.
September 26: Josh Ritter
With: Sam Amidon
Tickets: $29, $26, $20, student discount $3 off
"After playing the Hall with his full band in 2009, Josh Ritter returns, this time to take full advantage of the Hall's stellar acoustics, with a stripped down, acoustic performance.  Performing songs from his new, critically acclaimed album, The Beast In Its Tracks, don't miss this renowned singer-songwriter."
October 11: Sweet Honey In The Rock 40th Anniversary Celebration: Forty and Fierce
Tickets:Â $42, $35, $25
"This revered female, African-American a cappella ensemble is world famous, known for their diverse mixture of blues, African, jazz, gospel and R&B music.  Sweet Honey In The Rock© are a musical, cultural and political powerhouse - come to the Hall and help them celebrate 40 years of making a joyful noise! (Special Event, Family Friendly)"
October 25: Boney James
Tickets: $42, $35, $30, student discount $3 off
"Saxophonist Boney James is one of the most successful instrumental artists of our time.  His newest album, The Beat, just debuted at #1 on Billboards Contemporary Jazz Chart, making it his tenth #1 album debut. Renowned for his compelling live performances, the Boston Globe declares "Let's make something perfectly clear: James is not a smooth jazz player.  ... his music is muscular and gritty....James swaggers across the stage.... He even weaves his way through the crowd, all but daring them not to have a good time."  Don't miss an exciting evening of music with R&B/Jazz roots and Latin rhythm!"
November 5 15: Jim Breuer
Tickets: $27, student discount $3 off
"With his off-the-wall humor and lovable personality, Jim Breuer is a very popular comedian. Named one of Comedy Central's "100 Greatest Stand-Ups of All Time," he is known for his charismatic stage antics and dead-on impressions. A SNL Alum, he also starred alongside Dave Chappelle in the cult favorite film Half Baked. Breuer can be heard on his weekly Sirius/XM Radio show "Fridays with Breuer," featuring guests such as Jerry Seinfeld, Bill Cosby, Chris Rock, Dennis Leary, and Jeff Foxworthy."
November 30: Eileen Ivers - An Nollaig: An Irish Christmas
Tickets: $36, $28, $20, student discount $5 off
"Virtuoso Celtic fiddler Eileen Ivers--founding member of Cherish the Ladies, original Riverdance star, and lifelong traveler of Ireland's musical paths - captures the spirit and magic of the season in this heartwarming holiday show. Featuring traditional Irish songs, original tunes and holiday favorites such as The Holly Tree, Hark The Herald Angels (in traditional jig time) and many others. With her signature warmth, Ivers invites listeners in for a tuneful, soulful celebration that's as comforting as a favorite carol. Bring the family and don't miss this very special Christmas celebration for all ages! (Family Friendly)"
December 6: A Solstice Celebration: The Festival of Lights: Turtle Island Quartet with special guest Tierney Sutton
Tickets: $38, $32, $30, $25, student discount $3 off
"A joyous voyage through world holiday music! Vocalist Tierney Sutton, called "a pure jazz spirit" by the NY Times, joins Turtle Island Quartet in a concert showcases music associated with what is referred to in both the Jewish and Hindu traditions as the Festival Of Lights. From the songs of Chanukah, to the music of India's Diwali, to the old English carols of the 16th century, TIQ explores the timeless music that has been an integral part of winter holiday celebrations for centuries. The program also features music from Vince Guaraldi's beloved A Charlie Brown Christmas, as well as revisiting famous classical gems that have become so indelibly tied to the holiday season. (Family Friendly)"
December 19: Rosanne Cash
Tickets: $39, $35, $28
"The Hall is thrilled to welcome America's pre-eminent singer songwriters, and country music royalty, Rosanne Cash. Her music draws on many genres, including folk, rock, pop, and blues, and her hits include Seven Year Ache, I Don't Know Why You Don't Want Me, Never Be You, Runaway Train and the John Hiatt penned The Way You Mend A Broken Heart. At her Music Hall debut, she will be performing with her husband, Grammy Award winner producer and guitarist John Leventhal. Together, they'll play her hits along with songs from her cd The Essential Rosanne Cash, a personal collection of her favorite tracks spanning 30 years. (Special Event) A benefit for CARES, Inc and the Capital Region Coalition to End Homelessness
February 1: Kathy Mattea
Tickets: $29, $20, student discount $3 off
"One of country music's most distinctive and critically acclaimed artist, two-time Country Music Association Female Vocalist of the Year Kathy Mattea returns to the Hall! With hits such as Where've You Been?, the bluesy 455 Rocket, and the iconic Eighteen Wheels and a Dozen Roses, Mattea is always ahead of the curve, both in Nashville's sound and its conscience. She has remained grounded as a folk-based roots performer who lets her own instincts be her guide. Calling Me Home, Mattea's follow-up to her hit Coal, is a collection of songs that celebrates the Appalachian culture of her native West Virginia. Her acoustic-based music has been hailed both for its contemporary edge and traditional flavor, and her passionate live performances keep fans coming back from all around the world."
February 20: Angelique Kidjo
Tickets: $28, $20, student discount $3 off
"Hailed as "Africa's premier diva" by Time magazine, singer songwriter Angelique Kidjo embodies the spirit of Africa. A frequent collaborator, she's recorded with everyone from Dave Matthews and Bono to Wynton Marsalis and Herbie Hancock. In her return to the Music Hall, she'll be singing her own compositions along with rock, reggae, R&B, funk classics. Angelique brings empowerment, joy, strength and love to her audience while sharing the richness and beauty of African culture. Don't miss this dynamic and uplifting music and her thrilling live performance!"
March 6: Imani Winds
Tickets: $28, $20, student discount $3 off
"North America's premier wind quintet! Imani Winds has established itself as one of the most successful chamber music ensembles in the United States. Since 1997 this Grammy nominated quintet has taken a unique path, carving out a distinct presence in the classical music world with its dynamic playing, culturally poignant programming, adventurous collaborations, and inspirational outreach programs. They regularly collaborate with artists ranging from Yo-Yo Ma to Wayne Shorter. With two member composers and a deep commitment to commissioning new work, the group is enriching the traditional wind quintet repertoire while meaningfully bridging European, American, African and Latin American traditions."
March 16: Danú
Tickets: $37, $32, $27, $22, student discount $5 off
"Get ready for St. Patrick's Day with Danú, one of the very best traditional Irish ensembles. Their high-energy performances are a glorious mix of ancient Irish music and new repertoire. They are virtuosi players on flute, tin whistle, fiddle, button accordion, bouzouki, and vocals (Irish and English), have recorded seven critically acclaimed albums, and toured the world. Join Danú as they take you on a musical journey to their native Ireland, offering a moving and memorable concert experience in the intimate setting of the Hall. (Family Friendly)"
April 5: Johnny Clegg
Tickets: $28, $20, student discount $3 off
"Experience the thrill of music and dance with one of South Africa's most celebrated sons! This singer, songwriter, dancer, anthropologist and musical activist creates infectious crossover music, a vibrant blend of Western pop and African Zulu rhythms. He exploded onto the international scene after breaking through all the barriers in his own country of South Africa. In France, where he enjoys a massive following, he is fondly called Le Zulu Blanc - the white Zulu. He wows audiences with his audacious live shows and won a number of national and international awards for his music and for his outspoken views on apartheid. By combining African rhythms with Celtic folk and international rock, Johnny pioneered a new and unique sound, establishing himself as South Africa's biggest musical export. "
April 19: Great Guitars
Tickets: $34, $28, $22, $20, student discount $3 off
"Bringing together four of the leading acoustic guitarists of their generation, The Great Guitars™, featuring Martin Taylor, Frank Vignola, Vinnie Raniolo and Peppino D'Agostino, continues the guitar super group tradition. Martin Taylor, who replaced Herb Ellis in the original Great Guitars and toured as part of the group alongside the legendary Barney Kessel and Charlie Byrd, is now carrying the guitar trio tradition forward into the 21st Century with the addition of jazz guitarist Frank Vignola, fast-rising player Vinnie Raniolo and Italian acoustic guitarist Peppino D'Agostino."
April 25: Broadway's Next H!t Musical
Tickets: $28, $20, student discount $3 off
"Every song is fresh. Every scene is new. Every night is different. It's all improvised and it's all funny. The New York Times calls Broadway's Next H!T Musical "Hilarious!" Time Out NY says "At last! A musical of, for, and by the people." In this hysterical, unscripted theatrical awards show, master improvisers gather song suggestions from the audience and create a spontaneous evening of music, humor, and laughter. The audience votes for their favorite song and watches as the cast turns it into a full blown improvised musical - complete with memorable characters, witty dialogue, and plot twists galore."
May 8: Glenn Miller Orchestra
"Playing such classics as In The Mood, Chattanooga Choo Choo, A String of Pearls, Moonlight Serenade and Tuxedo Junction, the Glenn Miller Orchestra is the most sought after big band in the world today. Bandleader Glenn Miller disappeared over the English Channel on a flight from London to Paris on December 15, 1944, at the height of his popularity. Yet, over fifty-five years since the public first embraced the successful Glenn Miller Sound, both the legend and the music live on. The Miller Estate formed the present orchestra in 1956 and the band, which includes two vocalists, has been touring consistently ever since, playing an average of 300 live dates a year around the globe. With its unique, jazzy sound, it is considered one of the greatest bands of all time. They return to the hall after their sold out engagement in 2011! (Special Event)"

May 16: Red Molly
Tickets: $22, student discount $5 off
"This female trio, whose bluegrass and folk music spiced with lush three-part harmonies, have quickly become local favorites. Welcome back Laurie MacAllister, bass and banjo, Abbie Gardner, dobro and banjo, and Molly Venter on guitar, all known for their exceptional musicianship and boundless energy. Their inventive arrangements include bluegrass-tinged folk, jazzy western swing, Abbie's signature dobro licks, and the occasional gorgeous, a cappella ballad. They'll create an evening of lively and beautiful music, don't miss it! (Family Friendly)"
____
The Troy Music Hall has advertised on AOA in the past.
photo: Marcelo Biglia
Hi there. Comments have been closed for this item. Still have something to say? Contact us.