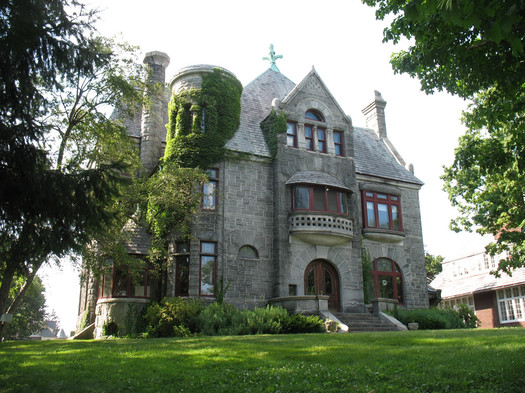 Perched on the north edge of Washington Park in Albany, 10 Thurlow Terrace is one of the city's unique properties. The home looks like a castle on the outside, and the interior is filled with beautiful woodwork (there are photos at that link).
And now it's close to finding a new life. The owner of 10 Thurlow and the Castle Island Bilingual Montessori school are working on a deal in which the school would move into the historic home.
"We're really excited. It's an exquisite location," Diane Nickerson, the director of Castle Island, told us today of the plan. "If you want to give the best to your kids, why not give them the best facility for the school? They deserve that."
Castle Island is a new school that combines the Montessori approach with English/Spanish bilingual education. It started with six students last fall, finished this past school year with 13, and it looks like they'll have around 50 students for the new school year. It's currently located in the Boys and Girls Club building on Delaware Ave.
Nickerson explained that growing the school is a chicken-and-egg problem: To have more students, the school needs a bigger space. To be able to afford a bigger space, the school needs more students.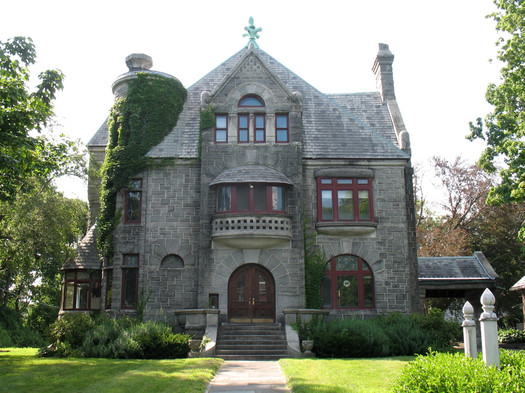 So the move to 10 Thurlow is a big jump. Nickerson said Castle Island is working with the home's current owner on an arrangement to buy the building (its list price is $1.15 million, though details of this specific deal weren't available). To make that happen, Nickerson said the school is doing some "urgent fundraising." There's an upcoming tour for families who are currently enrolled or are thinking about enrolling. There will be a larger, more formal fundraising event August 22. And there may be other events.
"My seller is doing his best to work with them," Sam Critton, who's representing the current owner -- Larry Jones -- for TL Metzger, told us today of Jones' willingness to allow Castle Island to open the building to visitors ahead of the situation being a done deal. "We feel that's in everyone's best interest."
The 8,600-square-foot home at 10 Thurlow Terrace was built in 1891 for Charles La Dow, an inventor of agricultural machinery. It was designed by Ernest Hoffman, who also designed the nearby firehouse at Western and Washington.
The building has been for sale off and on since 2009. Critton said it's been under contract twice in that time, but the sale fell through both times.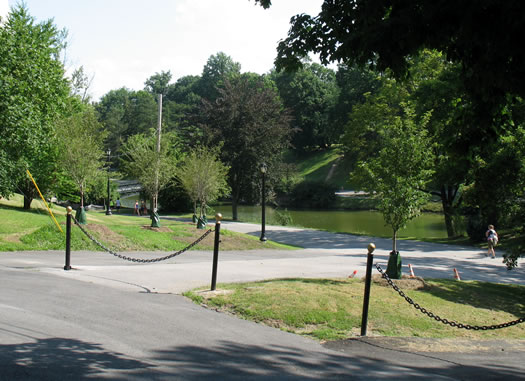 Washington Park view from the curb in front of 10 Thurlow.
"It's a challenging property, there's just a very narrow market of buyers," Critton said. "As you can imagine, there aren't a lot of 10,000-square-foot castles for sale in Albany."
Another challenge: finding someone who will take care of the property and maintain it in the style of its original design. "Larry does have a little bit of a sentimental attachment to the building, it's a unique building, and it has lots of stories. And he can appreciate that history, and he wants to make sure the next steward can have that feeling."
Nickerson emphasized today that maintaining the home will be a core part of the school's mission there. "Montessori learning environments should have a high aesthetic quality to them," she told us. "We plan to take very good care of it."
Find It
"The Castle"
10 Thurlow Terrace
Albany, NY 12203
Hi there. Comments have been closed for this item. Still have something to say? Contact us.