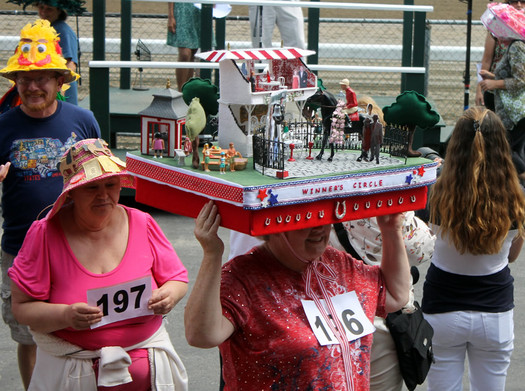 Special fashion correspondent Katilin Resler was AOA's representative on the judge's panel for this year's Hat Contest at the Saratoga Race Course on Sunday. She reports back, with photos:
The whole thing was super fun! I judged with Jenny from Mamatoga and Shanna from 99.5 The River. This year contestants were encouraged to involve the 150th anniversary into their hats (although it wasn't required), so a lot of the hats and outfits did just that.
One woman wore a black antique dress from the 1800s! Another wore a yellow flower hat made by a friend (who made several of the hats worn today), and over all there was quite a good mixture of hats made by their wearers and not. One of the winners from the Uniquely Saratoga category's hat featured a horse head wearing its own hat, which she let us know was standing in as the first horse to win at Saratoga.
Here's the list of winners.
A handful of Kaitlin's photos are after the jump. The horse head hat is pretty great.

Photos are in large-format above -- scroll all the way up.

The Saratoga Race Course advertises on AOA.