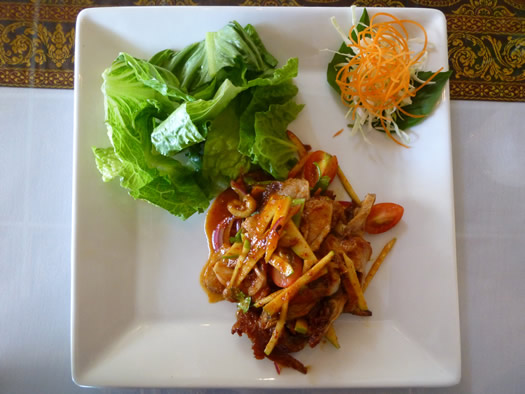 By Daniel B.
It's time to complain about the heat.
Man, it's hot this summer. At the very least we were blessed with a long and lovely spring. But who can remember that when it's just been so oppressive recently? Eating is the last thing I want to do when I'm sweating through my shirt.
The good news is that there are a lot of places that get even hotter than the Capital Region in summer, and we can all learn some valuable lessons from how they sustain themselves in the heat. I'll never understand the Szechuan drive to fight fire with fire by stimulating the body's built in cooling system with sweat-inducing spices. The cooling salads of Thailand are much more my speed.
In Bangkok this week, every day promises to reach at least ninety degrees. But you can get duck salad here on Delaware Avenue in Albany either in the air conditioning or on the porch of Sweet Basil. I'm no great lover of salads, but let me tell you why this really hits the spot when it's hot.
Salad isn't a meal. It's a bunch of leaves on a plate covered with oil. Sure, you could find a salad that eats like a cheeseburger. You know the ones. They are covered with bacon, hard boiled eggs, and blue cheese dressing. It may even involve a piece of "crispy" chicken. But those are heavy, and eating one is more of a slog through fat than a bright and refreshing repast.
Thai papaya salad is one of my favorite ways to start a full Thai feast. It is all about being bright and refreshing, with zesty acids being checked by the funk of fermented fish sauce. But shredded green papaya on its own isn't going to stick with you.
There are also Thai salads with beef and chicken, which can be delicious, but they are far from special. Larb, a salad made from ground chicken is a real taste sensation. Again, it's one of my favorites, except this loose meaty mixture is lacking in both visual appeal and the real satisfaction of biting down into something substantial.
The answer is duck salad.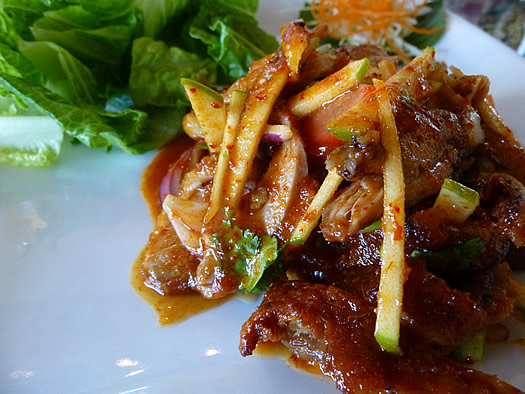 When it's hot, you don't want to eat a lot. But still, you need something satisfying. Duck really fills the bill, as it's a rich meat and a little goes a long way. Thin slices of duck breast are the star of this dish at Sweet Basil. It's more succulent and meaty than crispy, although there are a few precious crispy bits of duck skin to be found. The meat is combined with slivers of red onion and matchsticks of green apple. And this is tossed with a dressing of chili paste, fish sauce, and lemon juice. It's spiked with flecks of green cilantro and scallion, with an occasional crunch cashew and juicy piece of tomato.
If that's not enough of a salad for you, it comes with a beautiful pile of crisp, green, romaine lettuce segments on the side.
Really, this dish has it all. It's visually appealing with deep reds and bright greens, to stimulate the appetite. It's crisp, cool, and bright from the greens, apples, and tart/piquant dressing. It's satisfying with large, meaty pieces of duck that you can sink your teeth into. It's delicious, with layers of flavors unfolding in every bite. And it makes a great lunch on its own for only $8.
Duck salad isn't exclusive to Sweet Basil. It's a common Thai dish. Kinnaree, on Lark Street, has enjoyed a lot of attention as a great place to get Thai food in the Capital Region, and for good reason, but on this dish Sweet Basil does a better job. Mostly because of the romaine. That crisp texture and bitterness really is a great foil for the tender chew of the meat and some of the sweetness underlying in the dressing. The OCD in me likes to take each flat piece of romaine and construct perfect little bites on top of each with a piece of duck, some of the apple and a little red onion. Some pieces will get the occasional cashew. Others will get the occasional tomato. Maybe one lucky piece will get both. (But those who like to leave their bites to chance would do perfectly well with a stab in pile A, followed by a stab in pile B. Mixing the whole thing together would just turn the beautiful plate into utter chaos.)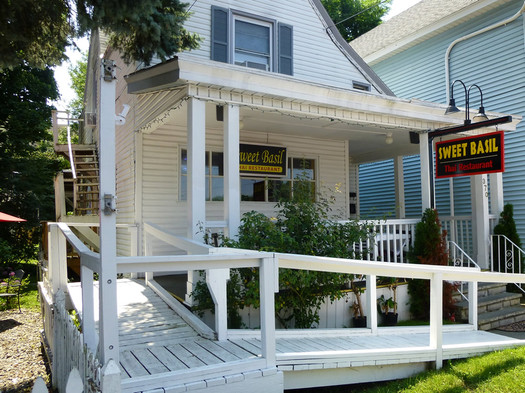 Just know that if you want to head to Sweet Basil for dinner or with a party larger than four that it's a good idea to call ahead. There are precious few tables, and even on a summer weekday at lunchtime the place can fill up.
____
One parting note. It has been my great pleasure to write these Eat This! columns for the past two and a half years. Today is my last one. Next week I'll be leaving for a year abroad in New Jersey. But I'm coming back. Since moving here I've watched the food get better and better. That can only happen when people like you support the places that are making great things to eat. Thank you.
And if you are interested in following my further food adventures, as always, they will be posted daily on the FUSSYlittleBLOG. Eat well.
Hi there. Comments have been closed for this item. Still have something to say? Contact us.