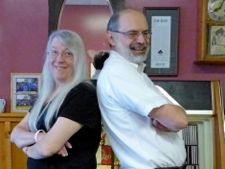 Welcome to Monday!
Let's start off the week with some music. This week the folks at WEXT have a new My Exit.
Guest DJs Dave and Claudia share a playlist of obscure covers about everything from love to summer to ... dead skunks.
Who?
Dave
I'm Dave Schoch and this is my second My Exit. I had so much fun doing the first one, I decided I wanted to share the experience and get some friends involved. In this section, I have a great friend Claudia to co-DJ with me.
Claudia
I'm Claudia Gregoire and this is my first My Exit. I'm retired from municipal government but still keep pretty busy with volunteer work and also working for Dave's wife's computer company. In my spare time, I'm out somewhere with my camera. Or thinking about weeding the garden. Or on the computer.
How would you describe your taste in music?
Dave
I love a diverse mix from early rock to alt and classical.

Claudia
I like just about any kind of music. I played classical through high school but have eclectic taste overall. It all depends on my mood.
A few songs from Dave and Claudia's My Exit Show:
I had a theme for the first show of covers. I was going to go without a theme for my next when I asked Claudia. She immediately rattled off the top of her head about a dozen one hit wonders from the 60s and 70s. Well, that settled that! We had a theme. One- (or two-)hit wonders. Here are a few.
"Vehicle" by Ides of March
This was a band that toured extensively with groups such as Joplin, Hendrix and Led Zeppelin. I'll bet you recognize it the minute you hear it.
"Spirit in the Sky" by Norman Greenbaum
This song sold 2 million copies in 1969 and 70. Not bad at all. This from the man behind Dr. West Medicine Show and Juke Bank that gave us "The Eggplant That Ate Chicago."
"Summertime" by Mungo Jerry
They only had this one hit outside the United Kingdom. What better song to play on a hot summer day. It's a real toe tapper!
"Tighter, Tighter" by Alive and Kickin'
This song was originally written by Tommy James and Bob King when Tommy James' group and Alive and Kickin' were both signed to Roulette. James was going to give "Crystal Blue Persuasion" to Alive and Kickin' but decided to us it himself. So he wrote "Tighter, Tighter" for them.
"Dead Skunk" by Loudon Wainwright III
This song is very meaningful to one of the us and brings back vivid memories of dating in college. You can find out all about it by listening to our My Exit on WEXT 97.7.
You can hear Dave and Claudia's My Exit show Monday night at 11 pm on 97.7, Saturday at 8 am, or at exit977.org.
Here's how to schedule your own My Exit show on WEXT.