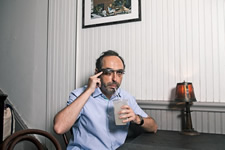 The new issue of the New Yorker includes an article by novelist Gary Shteyngart about using Google Glass -- and Aray Montalvan, a fellow Glass early user and an art director at Proctors, makes an extended cameo. Shteyngart even makes the trip up from NYC to visit Montalvan in Schenectady.
This part struck us as interesting:
Aray was born and raised in Cuba, and came to the United States at eleven. I mention that both of us spent our childhood in totalitarian countries. "It's no different from being in that type of environment," she says of wearing Glass. "I grew up accustomed to knowing that the government knew more than I probably knew about myself and about my family. And I think here it's our choice as to how much we want to share." Does this mean she has any qualms about the technology? "I don't," she says. Aray was an early adopter of Twitter and Foursquare; as a young immigrant, she learned to read English through a computer program. "It's who I am," she says. ...
Before I leave, Aray and I have a Google "hangout." We essentially swap identities. I see what she sees through her Glass, which is me. She sees what I see through my Glass, which is her. We bring our faces closer, as if approaching a mirror, but the feeling is more akin to being trapped in an early Spike Jonze movie or thrust into an unholy Vulcan mind meld.
For the first time, Aray is not seamlessly woven into her technology. "I'm not going to lie," she says. "It's a little freaky." We give each other a hug as we part.
We've been following along with Montalvan's experiences of using Google Glass on her Google+ page. She's been posting pics and videos taken with the glasses (example: taking batting practice at the Joe). Some of the clips very much evoke a cinema verite-style you-are-there kind of feel, like this one in which she follows YNN's Karen Tararache off stage during a show at Proctors.
It's very posssible that Google Glass in its present form won't be the exact way this sort of pervasive life recording/Little Brother tech becomes ubiquitous. But it feels like something similar to it will eventually, for better or for worse.
Let's hope the future comes equipped with image stabilization.
photo: Emiliano Granado / The New Yorker