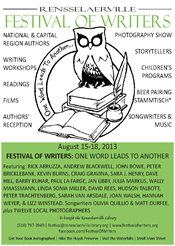 The fourth Rensselaerville Festival of Writers is coming up August 15-18. Among the lineup for this year's festival:
+ Joan Walsh, Salon editor at large
+ Lizz Winstead, co-creator of The Daily Show
+ David Rees, humorist/cartoonist (the book How to Sharpen Pencils, the strip Get Your War On)
+ Jan Libby, multimedia storyteller and experience designer
+ Craig Gravina, Albany-area beer historian
+ Music from Matt Durfee and Olivia Quillio
Here's the full lineup of authors and speakers.
The festival is at "several venues throughout the idyllic Helderberg hamlet." There's a range of ticket prices for the various readings, talks, and workshops -- from $10 to $275 (four-day pass). Proceeds go to benefit the Rensselaerville Library.