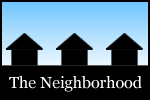 Among the topics in this most recent spin around the Capital Region's online neighborhood: an embrace, the park at night, a pitch for Valentine's, farewell predictions, St. Patrick's, wildlife reports, a leech and corned beef, Lake George, Troy Cloth and Paper, blueberries, beer and ice cream, ending bread exile in Troy, a weird supermarket situation, a white suit, and minor annoyances.
Albaniana watched a friend embrace a cultural difference.
Nora noted the park near her house in Schenectady is a "different creature at night" at night -- but her neighborhood watch provides some peace of mind.
The Idiots made a pitch for Valentine's to move to Saratoga.
Daniel bid temporary farewell to the Capital Region with some predictions.
Chuck created a "dream window" with a photo -- and panels -- from the St. Patrick's demolition.
Morning run wildlife reports: Jona spotted quite a collection, and the Exile encountered a fisher.
Jackie learned something about leeches and corned beef.
Albany Jane hung out in Lake George.
Silvia dominated a wall at the Warrior Dash.
Jen printed t-shirts at Troy Cloth and Paper.
The Bee Balm Gal picked blueberries in Washington County and caught Shakespeare in the park.
J+R stopped in at the Cooper's Cave Ale Company in Glens Falls.
Cmaxby listed the things in Troy she was looking forward to eating after her bread exile ended.
One of Steve's readers reported bizarre, almost unbelievable situation at a local supermarket.
One of the Kristi's readers was looking for suggestions of where to get a women's suit for a wedding.
And Rob is (a little bit) annoyed.
Hi there. Comments have been closed for this item. Still have something to say? Contact us.