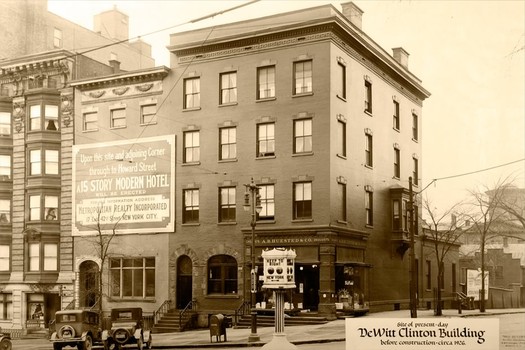 The Cuomo admin and Columbia Development announced today plans to renovate the vacant DeWitt Clinton Hotel building at State and Eagle in downtown Albany (streetview). (You know the building -- it's the one that looks buttoned up, but in a "I forgot what I was supposed to be doing" kind of way.) In its new life, the DeWitt Clinton will be a 204-room "Renaissance by Marriott Hotel." Press release:
The Renaissance Albany will have the feel of a boutique hotel and will include the building's original breathtaking lobby. Located at the corner of State and Eagle Streets, the Renaissance will offer intimate meeting space for private events, 204 rooms, a full-service restaurant open to the public, a lounge and coffee shop. It will be the first time the region has had a full service Renaissance by Marriott Hotel.
The $48 million project's not all that surprising. Columbia is already re-building next door at Wellington Row, the hotel is literally right across the street from the Capitol, and the proposed downsized Albany convention center thing would be just behind it.
Anyway, part of the press materials today included a photo of the DeWitt Clinton site from before the DeWitt Clinton was there (above, large format). We were struck by the circa 1926 photo, which shows a drug store on the corner and an excellent old-school traffic signal. Attached to the building and its adjacent (now-gone) neighbor, a big sign that read:
Upon this site and adjoining Corner through to Howard Street




A 15 STORY MODERN HOTEL




WILL BE ERECTED
That modern hotel lasted about 50 years, until the building stopped operating as a hotel in 1975 (it's had various other uses since then). And now it will be modernized. Again.
Cat guest: Albany Archives dug up a great story about the opening of the DeWitt Clinton in 1927 -- the first guest to stay there was a cat. Really.
Hi there. Comments have been closed for this item. Still have something to say? Contact us.