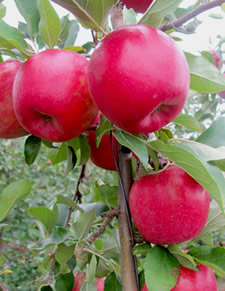 Cornell has introduced two new apple varieties that are now growing around New York State and will eventually be popping up in stores:
SnapDragon: "[G]ets its juicy crispness from its Honeycrisp parent, and it has a spicy-sweet flavor." It's said to have a long shelf life. (The apples on the right are SnapDragons.)
RubyFrost: A later-ripening variety with "a beautiful skin and a nice sugar-acid balance" with a "crisp juiciness." Comparable to an Empire or Granny Smith.
The apples are available this summer, but there aren't that many being grown currently. Cornell says they should be showing up in stores in 2015.
Update: A Cornell spokesman says at least one orchard in this area is slated to have them at their farm stand this fall: Bowman Orchards in Rexford.
This bit about the apples' development, from a press release, caught our eye:
The two varieties have been a decade in the making, and how they've gone to market is a first for the Cornell apple-breeding program and the New York apple industry. Historically, public universities developed new apple breeds and released them to the industry freely. But in 1980, the Bayh-Dole Act gave universities the right to retain the intellectual property rights for their research, with limited plant-based royalties.
In May 2010, Cornell forged a partnership for a "managed release" with [New York Apple Growers], a new industry group, to establish an exclusive licensing agreement in North America for the two apple varieties. Growers pay royalties on trees purchased, acreage planted and fruit produced, and the income is used to market the new varieties and support Cornell's apple-breeding program.
Cornell has released 66 apple varieties since the 1890s, according to the press release, including the Cortland, Macoun, Empire and Jonagold.
Earlier on AOA: Lost and found apples
photo: Kevin Maloney / Cornell
Hi there. Comments have been closed for this item. Still have something to say? Contact us.