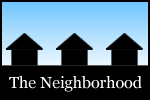 Among the topics in this most recent spin around the Capital Region's online neighborhood: a first trip to the Track, apathy and hot dogs, CBS and TWC, Megabus, an ADK weekend, peaks, Vermont, Canajoharie, a farewell, shooting lessons, volunteering, the Washington County Antiques Fair, flora in the clouds, 100 acres, Capital Region food culture, fresh tomatoes, sashimi, architecture, a dog detective, pie crust, and two year olds.
One of the Idiots shared a warm memory of a first visit to The Track.
Val shared her frustration with Albany's "totally unique culture of apathy and hot dogs."
Chuck wished a pox upon the houses of CBS and TWC.
Albany Jane had a bad experience on Megabus.
Jen on "how to have an awesome ADK weekend."
Jona hiked some of the Adirondack peaks solo.
The Fuj went camping (and bagel and pizza eating) in Vermont.
The Exiles day-tripped in Canajoharie.
Rob bid farewell to the Woodworth Lake Scout Reservation.
Kristi asked for suggestions about where to take shooting lessons.
In an attempt to meet new people, Wayfarer Christine volunteered.
Crystal browsed the Washington County Antiques Fair.
Jackie went looking for flora in the clouds.
The Bee Balm Gal walked the 100 Acre Woods in Malta.
Steve asked people what they think is missing from Capital Region food culture.
Sylvia Silvia said dinner at Mezza Notte was a treat.
Jerry checked out Zen in Schenectady.
Carl highlight the history -- and possible future -- William Young's buildings in Troy.
Randal got a you-the-man for his dog detective skills.
Emily: "My entire young adult life probably would have been different if I had found any task that allowed me to live in the moment as much as rolling out a pie crust does."
And Nicole on "the bigness of 2 years old."
Hi there. Comments have been closed for this item. Still have something to say? Contact us.