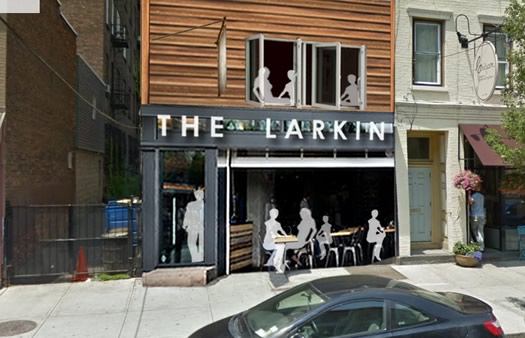 We enjoyed flipping through this project Aaron sent along today: re:albany -- in which he basically re-imagines empty buildings around the city via Photoshop.
The image above is a good example. It's his imagining of what the long-empty Larkin building on Lark Street could be. As explains on the site:
Remember the Larkin? It used to be a great Lark street spot between Eldas and Crisan. ... I like the use of garage doors in bars/restaurants. If it's nice out, you're open to the outdoors. When it's cold, keep it closed and its still a good look. Wood siding on the upper half to balance out the industrial beams of the lower half. Hopefully it doesn't look too much like a wild west saloon.
Sometimes the here-let-me-redesign-that-for-you approach doesn't necessarily play well. But in Aaron's case, it seems to be coming from a good place. As he explained via email:
I believe in small cities. I think they are the key of getting the best of both worlds (character, food, and places as amazing as your closest big city, BUT without all the stress that comes with living there.) So, I wish nothing more than downtown Albany to be a destination, full of shops, restaurants, lofts, and bustling foot traffic. Something similar to what it was back in the day when breweries ruled and packed trolleys ran down the hill. However, the best I can do is give a suggestion and maybe some inspiration to someone who can do something.
His Tumblr has just a few re-imagines so far -- but it sounds like he has more in the works. We hope he keeps at it. (And we hear he's taking suggestions...)
By the way: You might know Aaron from Barons in the Attic.