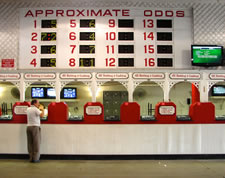 Over at The Millions, Elizabeth Minkel is writing a diary of her time as a pari-mutuel clerk this summer at the Saratoga Race Course. A clip:
We take bets. It's the simplest explanation for a job that's more nuanced than I'd ever have guessed, before any of this, before the track was something more than a disruptive abstraction on the east side of town. I learned the basic logic of horse gambling ten years ago, hovering over a keyboard as seasoned tellers called out sample bets, struggling to understand the terminology and the different combinations, exactas and doubles, keys and partial wheels, ten-ten on the eight horse, Seabiscuit in the fifth. I've learned a lot in the intervening decade, like how to harness the patience to explain the fundamentals to a novice, or how to decipher the ramblings of a drunk. I work hard to be effortlessly adept when professional gamblers come to the windows, printed stacks of racing stats clipped together, the carefully-calculated permutations of a morning spent handicapping printed at the top in neat pencil. Each series of bets, each exchange is a single moment encapsulated: beneath the numbers, horses and dollar amounts, it's flirtation or anger or joking banter or the drudgery of playing a game only the very lucky can seem to crack.
We enjoyed reading this first part of the diary, the way Minkel reflects on the Track's presence in her hometown and her focus on some of the tiny moments there.
We're looking forward to more.
(Thanks, Darren.)
photo: Elizabeth Minkel / The Millions