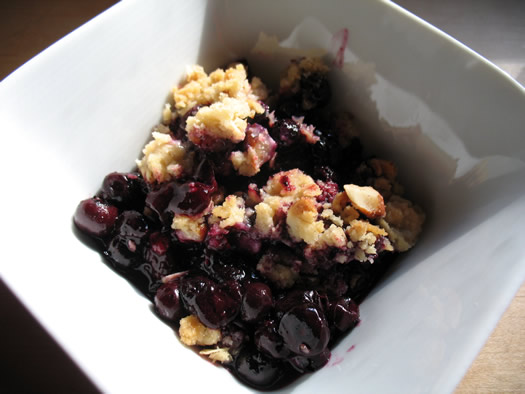 By AOA Greg
We interrupt our regularly scheduled programming (whatever that is) for this moment of cooking bloggery.
One of the great things about this time of year is the almost overflowing bounty of good local produce. There are all the vegetables, sure. But the thing I really associate with summer is the fruit. Strawberries early in the season, cherries, peaches, blueberries and raspberries -- and then just as summer's ending, apples.
And when we have an abundance of summer fruit, it's time for crumble. It's easy to make. Here's how.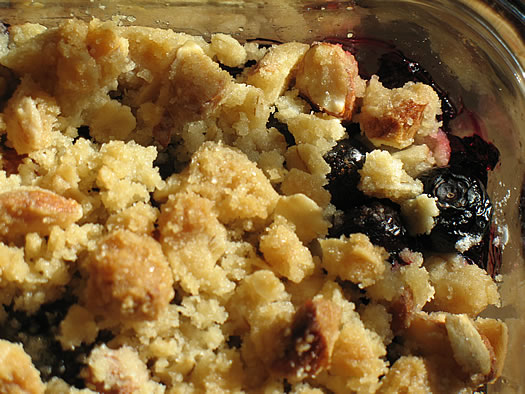 What is crumble?
The definition for these sorts of desserts are fluid, changing depending on who's describing them. But for our purposes: A crumble is fruit baked with a crumbly topping -- primarily flour, oats, sugar, and butter. (If you skip the oats, it's a crisp. So says the The Joy of Cooking.)
The pan
I like to use a glass 8x8 dish. It's enough for 6-8 servings.
The fruit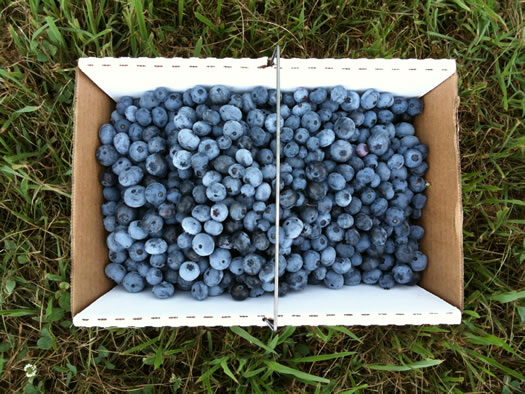 So many blueberries...
I've crumbled with all sorts of fruit: strawberries, cherries, peaches, blueberries, pears, apples, even bananas. You'll neeed enough fruit to fill the dish about 2/3-3/4 of the way.
The key in prepping the fruit is to make sure all the pieces are roughly the same size so it cooks evenly. In some cases, that is crazy easy -- for example with blueberries, you just give them a quick rinse (drain well, shake off as much water as possible) and dump 'em in the pan. With other fruit -- like apples and peaches -- they need to be sliced and peeled (well, maybe they don't have to be peeled, but I think they're better sans peel).
If there's a judgement call with the fruit, it's about sugar and spices. Fruit varies greatly in sweetness. So taste whatever you're using -- if it's on the sweet end, sprikle the fruit lightly with sugar (or brown sugar); if it's less sweet, use a heavier hand (like maybe a quarter cup or more).
Some crumble/crisp recipes call for adding spices to the topping. But I prefer to spice the fruit itself. Cinnamon is often a good call. But don't be afraid to experiment. Cardamom is good with peaches. A little fresh-ground black pepper works surprisingly well with straweberries. A splash of vanilla usually isn't a bad idea. Also worth doing: a squeeze of lemon or lime, along with some zest.
If you're using a fruit that will create a lot of juice -- like blueberries -- adding a teaspoon or so of corn starch can help thicken the mix.
Bonus tip: Using different varieties of the same fruit adds depth. Example: I like to use three different types of apples when making an apple crisp or crumble: one that's tart, one's that's sweet, maybe one that's in between.
The topping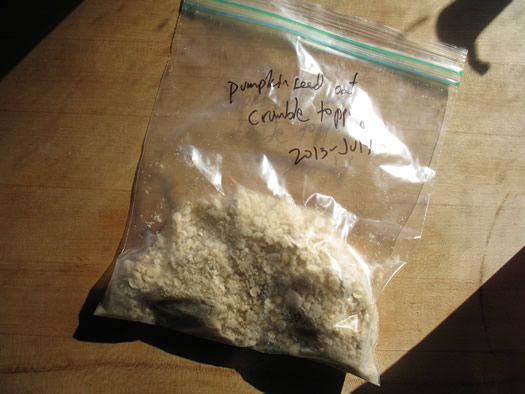 Leftover topping from a crumble earlier this summer -- enough for a mini-crumble.
There are a ton of variations on topping. (This person averaged a bunch of recipes.) But here's the one I've settled on:
3/4 cup all purpose flour
1/2 cup oats
1/4 cup nuts or seeds (if using nuts -- like almonds -- chop them roughly)
1/2 cup white sugar
1/2 light brown sugar
1/4 tsp pinch of salt
8 tb butter (1 stick), cut into about 16 pieces
Here's the super-technical method for making this topping: dump the first six ingredients in a bowl. Mix them with a fork until combined. Add the cut up butter. Then mash it all together with your hands, rubbing the butter between your fingers. The goal is to create crumbs that are roughly the size of peas.
All mixed together? Great. Spread it over the fruit.
Bonus tip: You can make the topping ahead of time and freeze it -- or freeze leftovers if you have too much. (see the photo above)
Bake
Pre-heat the oven to 350.
Place the pan on a baking sheet (in case it bubbles over -- easier to clean the sheet instead of the oven). Place on the middle rack of the oven. Set the timer for 40 minutes. Go do something else.
When the timer goes off, have a look. It should be bubbling and starting to get kind of jammy around the edges. Check to see if the fruit is cooked through (you want soft, but not totally falling apart). The topping should be getting brown.
Not done? Keep baking. If the topping is getting too brown ahead of the fruit being finished, cover it with foil. You probably won't have to bake it any longer than 50 minutes.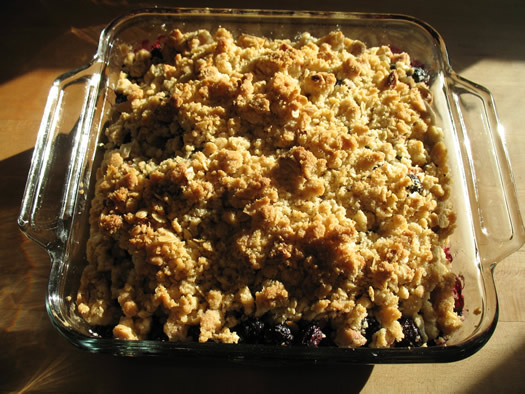 Done
Take the crumble out. Let it cool and set up for 30 minutes. Eat it, preferably with ice cream. (Also good as breakfast -- don't tell anyone.)
One of the good things about crisp/crumble is that it's easy to experiment with and adjust to how you like it. So play around with it. In my experience, even "bad" crumble is better than no crumble.
Hi there. Comments have been closed for this item. Still have something to say? Contact us.