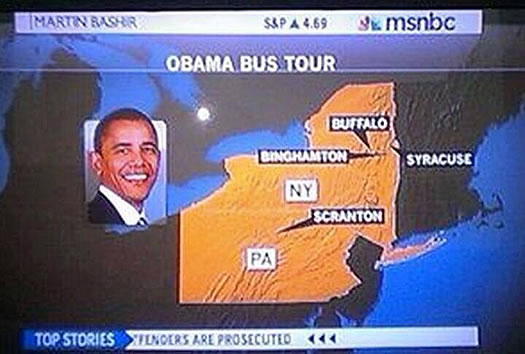 You know, everyone makes mistakes sometimes. It happens.
And sometimes, when it does happen, you have to laugh.
That screengrab above is from the Martin Bashir show on MSNBC, about the upcoming Barack Obama bus tour through upstate New York. And as @AlbanyArchives remarked: "We'd like to welcome Binghamton, Buffalo and Cuse to the Capital Region!"
The show owned up to the mistake. From a tweet last night:
Thank you viewers (and Buffalo bloodline @lukerussert) for pointing out our erroneous PA/NY map...an honest geographic mistake...
[via @AlbanyArchives]
Update: A map of the MSNBC cities versus where the actual cities are (with distances)...
MSNBC cities are approximated. Distances computed using NOAA calculator.
Hi there. Comments have been closed for this item. Still have something to say? Contact us.