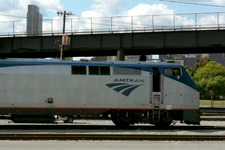 Amtrak announced this week that it set a one-month ridership record in July with 2.9 million passenger boardings, the most ever in the system's history.
Ridership on the Empire Service -- which runs between Albany/Rensselaer and NY Penn was 99,801 in July, up more than 7 percent during the same month last year. That made the Empire Service the 5th most-traveled short distance corridor in the nation during July. (And it ranks the line 7th for the whole system when you include the Northeast Corridor and Acela.)
Fiscal-year-to-date ridership on the Empire Service through July was 894,616 -- up 1.2 percent compared the same period the year before. That also ranked #5 for most-traveled short distance corridor.
After the jump, ridership numbers by line for July and year to date, sorted by ridership levels.
The bill that authorizes federal funding for Amtrak is up this fall -- and there's expected to be a fight over it in Congress. [The Hill via @RachelBarnhart]
Lines that run through Albany/Rensselaer are marked in blue.