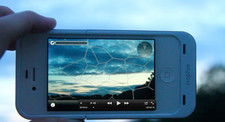 This could be kind of interesting: Art Omi in Ghent is hosting augmented reality tours of its Fields sculpture park. From the blurbage for Augmented Reality: Peeling Layers of Space Out of Thin Air:
This 40 minute tour allows viewers to enter a virtual world and see pieces created by 8 architects for Architecture Omi. Using an app installed on your smartphone, these works are viewable in real time as spatial projections onto the landscape - marking a further integration of novel technology in our everyday experience. What we experience here is not fully virtual; what we see on our phone is what we see around us, eerily enhanced by the overlay of digital content.
*This exhibition is only viewable through an iPhone, iPad, or Android. An iPad is provided for shared viewing.
The tours start at dusk (they're aiming for 5:30 pm in August). They're free and open to the public. (Though, as it mentions, you'll need one of those mobile devices -- and it looks you'll need the Layar app, as well.)
It appears Omi has done this before, in 2011. A video clip of the exhibit (installation?) is after the jump.
Augmented reality is one of those things that gets hyped now and then -- and seems like it maybe, could be cool and useful eventually -- but often falls flat. It'd be interesting to see how it plays out in this setting.
Hi there. Comments have been closed for this item. Still have something to say? Contact us.