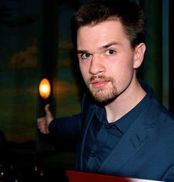 My Exit -- in which a listener picks an hour of tunes on 97.7 -- is back.
Today's My Exit is an eclectic mix from Cooper Nelson, runs the gamut from Tom Waits to Devo.
Who?
I'm Cooper Nelson, but you can call me Coop.
I'm a photographer in Clifton Park. When I'm not working I like producing my own cooking videos .
Describe your taste in music:
I try to listen to as many different styles of music that I can. There's just so much out there, you may as well explore it. On any ordinary day though, I could listen to any Queen album presented to me.
A few songs from Cooper's show:
"I Wish" - Stevie Wonder
Stevie Wonder just seems awesome. Who wouldn't want to hang out with him? Well until that day, you can always listen to Songs In The Key of Life a whole bunch.
"Mongoloid" - Devo
I grew up with this preconceived notion that was imprinted upon me at a young age that Devo was a bad band, only known for one song. I have my college friends to thank for correcting that false information. Devo rocks.

"Wake Her Up" - Brittany Shoup
Brittany Shoup is a great songwriter and a great soul. Also a level 3 wizard in my D&D party. A local artist in the Capital Region, I highly recommend her music!
"Walking out the Door" - Tim Kurtzberg
Another good friend of mine, and another great musician. Here's a guy who really loves music, which is the most important quality of any musician. Definitely check him out.
"Emotional Weather Report" - Tom Waits
I love this song. I don't know if it's because I just think it's funny, or because I think we can all relate to it. Probably a little bit of both.
You can hear Cooper's My Exit show Monday night at 11 pm on 97.7, Saturday at 8 am, or at exit977.org.
Here's how to schedule your own My Exit show on WEXT.
Hi there. Comments have been closed for this item. Still have something to say? Contact us.