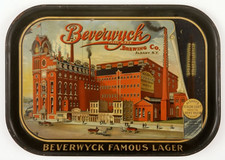 Over at Drink Drank, beer historian Craig Gravina lists "the seven beers that -- in my humble opinion -- shaped the New York beer scene." Here's a clip from one of his selections:
1. Schaefer Beer - Schaefer is not brewed in New York--but it was for 139 years, so let's just overlook that first bit. What can you say about Schaefer? It's a classic. It's been made since 1842. It survived prohibition, set the standard for the Bushwick Pilsner, became the official beer of the Brooklyn Dodgers, out-sold Budweiser in the late 1950s, and during the 1960s it sponsored a series of concerts in Central Park, featuring a few acts you may have heard of--The Who, Led Zeppelin, The Doors and the Beach Boys. Stroh's bought it in '81, and Pabst has steered the ship since '99. Oh, and that's right Schaefer was also an Albany hometown brew until the 1970s. It's brewery in Brooklyn exceeded capacity and they bought Beverwyck Brewery in 1950.
Gravina will be at the University Club in Albany this evening (Tuesday) for a talk titled "Hops and History: Albany's Brewing Tradition." There will also be a tasting of the "Magnificent Seven" that he lists in that post linked above. The event is from 5:30-7:30 pm.
The talk and tasting is $20. Call 518-463-1151 or online to register.
image: "Beverwyck Brewing Company Serving Tray" from the collection of the Albany Institute of History and Art
Hi there. Comments have been closed for this item. Still have something to say? Contact us.