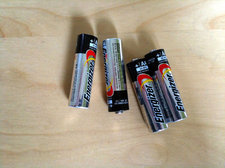 Scott asks via the Facebook:
I have a question for AOA: do you know of anyone around here that does battery recycling?
OK, so the answer to this question is: it's a little bit complicated. And you might have a suggestion that could help.


There are basically two types of batteries that most people use every day (here's a Wikipedia chart about battery composition):
Alkaline batteries
Examples: The run of the mill Duracells, Energizers, or what have you. Since the mid-1990s, these batteries have not included mercury. As a result, most trash haulers (example: the city of Albany) will just tell you to chuck 'em in the regular trash.
That's not to say they can't be recycled, but we get the impression there aren't a lot of places that take them for recycling (except in California). Here's a website that says it lists drop-off spots.
If you know of any local spots where you can drop off alkaline batteries for recycling, please share.
Rechargeable batteries and/or batteries that include heavy metals
Some of these look like regular batteries, but their composition includes materials such as "nickel-cadmium" or "lithium ion." Other batteries in this category include those "button" batteries in watches or the battery packs in some types of electronics. These batteries do include toxic materials (like cadmium) and should not be tossed in the trash.
In fact, New York State has a law -- the aptly titled "NYS Rechargeable Battery Recycling Act" -- that prohibits these batteries from being placed in the regular trash. It also requires retailers and manufacturers to take back the batteries -- at no charge to the consumer -- for recycling. It took effect in 2011.
Product manufacturers have funded an org to coordinate a take back program -- it has a listing of places that take back batteries.
Alternately, your trash hauler probably has household hazardous waste days for getting rid of this kind of stuff -- and other sorts of old electronics -- and these batteries can usually be handed off then.
Lead acid batteries: This is a related category of battery -- they contain lead (obviously), which is bad for the environment -- but the collection process is a bit different. Most lead acid batteries you'll encounter are stuff like car batteries. You can return these to retailers that sell those types of batteries. If you don't bring in an old battery when buying a new one, the retailer can charge you $5 as a "return incentive payment." If you bring in a used battery within 30 days, you get the $5 back.
Hi there. Comments have been closed for this item. Still have something to say? Contact us.