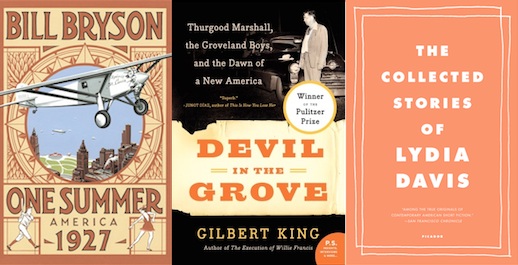 The fall lineup for the NYS Writers Institute visiting writers series is out. And, as we've all come to expect, it's full of notable, award-winning writers and names you'll recognize.
A handful that caught our eye on first pass this time around: Jonathan Lethem, Lydia Davis, Bill Bryson, Roxana Saberi, and William Kennedy.
Here's the full lineup...
All blurbage via the NYS Writers Institute. The series also includes a production of Otello (November 7). And the slate for the classic film series is also out -- it includes a screening of the The Place Beyond the Pines on November 15 with a talk by screenwriter (and Niskayuna native) Ben Coccio.
September 11: Jonathan Lethem, fiction writer and essayist
Seminar -- 4:15 p.m., Standish Room, Science Library, Uptown Campus
Reading -- 8:00 p.m., Recital Hall, Performing Arts Center, Uptown Campus
Jonathan Lethem, celebrated for his explorations of American culture and the New York City landscape, received the National Book Critics Circle Award for his novel Motherless Brooklyn (1999), a New York Times Best Seller. His new novel is Dissident Gardens, the story of a family of American radicals living in Sunnyside, Queens, and Greenwich Village during much of the last century, as they participate in the home-grown Communism of the 1930s up through the Occupy Wall Street movement of more recent days. Other books by Lethem include Chronic City (2009) and The Fortress of Solitude (2003), a New York Times Best Seller and "Editor's Choice." Lethem received a 2005 MacArthur Foundation Fellowship.
September 17: Marie Howe, New York State Poet and Sydney Lea, Vermont Poet Laureate
Seminar -- 4:15 p.m., Standish Room, Science Library, Uptown Campus
Reading -- 8:00 p.m., Huxley Theatre, NYS Museum, Cultural Education Center, Albany
Marie Howe, current New York State Poet (2012 - 2014), is the author of three collections of poetry: The Kingdom of Ordinary Time (2008), What the Living Do (1997), and The Good Thief (1988). The Rochester native and New York City resident is the recipient of the Lavan Younger Poets Prize of the American Academy of Poets. In 1995 she coedited the bestselling anthology, In the Company of My Solitude: American Writing from the AIDS Pandemic (with Michael Klein), which helped many AIDS victims "find their voices" as poets and storytellers.
Sydney Lea, current Vermont Poet Laureate (2011 - 2014), is the author of eleven collections of poetry, including Pursuit of a Wound (2000), a Pulitzer Prize finalist, and To the Bone: New and Selected Poems (1996), a co-winner of the Poet's Prize. The founder and long-time editor of The New England Review, Lea is the recipient of fellowships from the Guggenheim, Rockefeller, and Fulbright Foundations. Much of Lea's work focuses on the mystery of the natural world and the physical details of life in a rural setting. His latest book is A North Country Life: Tales of Woodsmen, Waters, and Wildlife (2013).
September 26: Gilbert King, Pulitzer Prize-winning nonfiction author
Seminar -- 4:15 p.m., Recital Hall, Performing Arts Center, Uptown Campus
Reading -- 8:00 p.m., Recital Hall, Performing Arts Center, Uptown Campus
Gilbert King, Niskayuna native, received the 2013 Pulitzer Prize for General Nonfiction for Devil in the Grove: Thurgood Marshall, the Groveland Boys, and the Dawn of a New America (2012), a meticulously researched, elegantly written account of the future Supreme Court Justice's role in defending four black men falsely accused of raping a white woman in Florida in 1949. The Salon reviewer said, "King recreates an important yet overlooked moment in American history with a chilling, atmospheric narrative that reads more like a Southern Gothic novel than a work of history." A featured contributor to the Smithsonian magazine history blog, King is also the author of The Execution of Willie Francis: Race, Murder, and the Search for Justice in the American South (2008).
[AOA adds: Here's a NYT article about King and Devil in the Grove from earlier this year.]
October 1: Lydia Davis, short story author and translator
Reading -- 4:15 p.m., Recital Hall, Performing Arts Center, Uptown Campus
Lydia Davis, "an American virtuoso of the short story form" (Salon), NYS Writers Institute Writing Fellow, and UAlbany English Department faculty member, received the 2013 Man Booker International Prize. The award is given every two years to authors of any nationality to recognize an outstanding body of work in English or English translation. Awarded to a handful of the world's leading writers, the prize is regarded by many as "an ever more competent alternative to the Nobel" (The Guardian). Davis is the author of five short story collections including, most recently, The Collected Stories (2009). A Chevalier des Arts et des Lettres in France, Davis is a leading translator into English of French literary fiction by Proust and Flaubert.

October 5: Bill Bryson, bestselling nonfiction author
Reading -- 7:30 p.m., Clark Auditorium, NYS Museum, Cultural Education Center, Albany
Bill Bryson is a widely admired nonfiction writer whose books on travel, history, science, and the English language are laugh-out-loud funny and astonishingly scholarly at the same time. His many bestsellers include At Home: A Short History of Private Life (2010), a Washington Post "Best Book of the Year;" A Short History of Nearly Everything (2004), winner of the Aventis Prize for science writing; I'm a Stranger Here Myself (1999); and A Walk in the Woods: Rediscovering America on the Appalachian Trail (1998). His new book is One Summer: America, 1927 (2013), about a pivotal time in America's national "coming of age."
October 8: T. C. Boyle, fiction writer
Seminar -- 4:15 p.m., Standish Room, Science Library, Uptown Campus
Reading -- 8:00 p.m., Recital Hall, Performing Arts Center, Uptown Campus
T. C. Boyle, "one of the most inventive and verbally exuberant writers of his generation" (New York Times), is the bestselling author of fourteen novels and nine short story collections. His newest book is T. C. Boyle Stories II (October 2013), a 944-page sequel to T. C. Boyle Stories (1998), winner of the PEN/Malamud Award for Short Fiction. Michael Anderson of the New York Times Book Review described the latter as "700 flashy, inventive pages of stylistic and moral acrobatics." Boyle's novels include San Miguel (2012), Drop City (2003), The Road to Wellville (1993), and World's End (1987).
October 9: William Kennedy - Lecture/Discussion by William Kennedy Celebrating the 40th Anniversary of UAlbany's Journalism Program
4:00 p.m., location TBA
William Kennedy, Pulitzer Prize-winning author and founder of the New York State Writers Institute, will help the UAlbany Journalism Program celebrate its 40th anniversary with a lecture on "William Rowley: Journalism and Social Justice." Rowley, a former editor at the Knickerbocker News and Professor of English at the University, founded the Journalism Program in 1973. An anti-war activist who also taught in the prisons, Rowley believed that journalism and social justice were natural allies, with journalism being a useful tool for developing "imagination, critical intelligence, and intellectual independence." His first hire to teach in the Journalism Program was a local writer named Bill Kennedy. For almost a decade Kennedy taught a course in Advanced Journalism and Magazine Writing. Kennedy will reflect on his years teaching at Albany and the current state of journalism.
October 18: Luis Gutierrez, U. S. Congressman and author
Reading -- 7:00 p.m.[Note early start time], Main Theatre, Performing Arts Center, Uptown Campus
Luis Gutierrez (D-IL-4), eleven-term U. S. Congressman from Illinois, and one of America's preeminent champions of immigration reform and Latino civil rights, spent part of his formative years as a student at UAlbany. Known to his supporters as "El Gallito" ("The Little Rooster") for his passionate oratory and willingness to fight for worthy causes, Gutierrez is the author of a new autobiography, Still Dreaming: My Journey from the Barrio to Capitol Hill (2013). Honest and often hilarious, the book recounts his rise from teacher, social worker, cab driver, and community activist to one of the most influential members of Congress. A leader of the Hispanic Caucus, Gutierrez serves currently on the House Judiciary Committee's Subcommittees on Immigration and Border Security; and Crime, Terrorism and Homeland Security.
Women Writers of the Middle East
Three events:
October 22: No One Knows About Persian Cats - Film screening with commentary by screenwriter Roxana Saberi
This quasi-documentary offers a glimpse into Iran's forbidden underground music scene. Recently imprisoned Iranian musicians attempt to put together a band and secure travel documents to play some concerts in Europe, all the while trying to avoid police detection for their illegal activity. The film won the Cannes Film Festival Un Certain Regard Jury Prize and the Miami Film Festival Audience Award. Roxana Saberi, who co-wrote the screenplay will provide film commentary and answer questions.
Roxana Saberi is an Iranian-American journalist, author, and human rights advocate. Raised in North Dakota she moved to Iran in 2003 to work as a foreign correspondent for a U.S.-based news service. Her book Between Two Worlds: My Life and Captivity in Iran (2010) chronicles the harrowing details of her arrest on charges of espionage, her 101-day imprisonment, and eventual acquittal.
October 23: Ava Homa and Kaziwa Salih, writers of the Kurdish Diaspora
Seminar -- 4:15 p.m., Recital Hall, Performing Arts Center, Uptown Campus
Ava Homa, Kurdish fiction writer and university lecturer born and educated in Iran, is author of the short story collection, Echoes from the Other Land (2010), featuring tales of modern Iranian women in conflict with social and cultural norms. The book was nominated for the 2011 Frank O'Connor International Award, the world's largest monetary short story prize.
Kaziwa Salih, writer, researcher, and activist from the Kurdistan Region of Iraq, is the author of ten books, both fiction and nonfiction, published in the Kurdish language. She is also the founder and chair of the Canada Anti-Genocide Project, and has served on the board of the United Nations Association in Canada (Toronto branch).
October 24: Goli Taraghi, Iranian fiction writer
Seminar -- 4:15 p.m., Standish Room, Science Library, Uptown Campus
Reading -- 8:00 p.m., Standish Room, Science Library, Uptown Campus
Goli Taraghi is a highly regarded Iranian fiction writer. Her newest work in English translation is the story collection, The Pomegranate Lady and Her Sons (October 2013). Azar Nafisi (Reading Lolita in Tehran) described the book as, "... original and universal, filled with passion, curiosity, empathy, as well as mischief--definitely mischief." Taraghi's other works in English include the story collection, A Mansion in the Sky (2003), and the novel Winter Sleep (1973, English 1994). She has been honored as a Chevalier des Arts et des Lettres in France. Taraghi also wrote the screenplay of the Iranian film, THE PEAR TREE (1998, see October 23 listing), which received the Silver Hugo for Best Feature at the Chicago International Film Festival.
October 25: A Celebration of Swedish Author Stig Dagerman (1923-1954) with his daughter Lo Dagerman and translator Steven Hartman
Reading and Film Screening -- 7:30 p.m., Page Hall, 135 Western Avenue, Downtown Campus
Stig Dagerman was considered to be Sweden's next great literary phenomenon for his critically acclaimed fiction and essays published during the late 1940s and early 1950s. Then in 1954, at the age of 31, he committed suicide. His work is currently experiencing a revival in the United States and Europe as several noted authors, translators, and publishers have praised his writing. Working with the author's daughter, Lo Dagerman, Steven Hartman, UAlbany Ph.D. graduate and former graduate assistant at the Writers Institute, has translated and published a number of Stig Dagerman's stories in American literary magazines since the early 1990s. These translations have been collected in the new volume, Sleet (2013). This event will feature readings and discussions of Dagerman's work by Lo Dagerman and Hartman, as well as screenings of short films based on Hartman's translations of two stories, Our Need for Consolation (19 min., 2012), and The Games of Night (20 min., 2008), directed by the author's grandson, Dan Levy Dagerman.

October 29: Douglas Bauer, fiction writer and essayist
Seminar -- 4:15 p.m., Standish Room, Science Library, Uptown Campus
Reading -- 8:00 p.m., Assembly Hall, Campus Center, Uptown Campus
Douglas Bauer's new book is What Happens Next? Matters of Life and Death (2013), a collection of memory-rich, deeply-felt personal essays on the meaning of human existence, from his boyhood on an Iowa farm to intimations of mortality in middle age. Author Margot Livesey said in advance praise, "Bauer is a master of the telling detail. This is a beautiful book about mortal matters and the great lessons of time that are written on the body." Novelist Andre Dubus III praised the book as "... a masterful, soul-nourishing work, and I simply cannot recommend it highly enough." A graduate of UAlbany with a Ph.D. in English, Bauer is currently Professor of English at Bennington College. His previous books include the novels The Book of Famous Iowans (1997), The Very Air (1993), and Dexterity (1989).
Othello
November 14: Robert Orsi, eminent religious studies scholar
Keynote Lecture -- 7:30 p.m., NYS Museum, Cultural Education Center, Albany
Robert Orsi, "the reigning scholar of American Catholicism" (Publishers Weekly), will deliver the keynote lecture of the Researching New York 2013 conference. The title of Orsi's talk is "The Gods of Gotham: Religion and the Making of New York, 1800 to 1950." The Grace Craddock Nagle Chair in Catholic Studies at Northwestern University, Orsi is the author of the landmark study, The Madonna of 115th Street: Faith and Community in Italian Harlem, 1880-1950 (1985, 25th Anniversary edition 2010).
November 21: David Treuer, Native American fiction and nonfiction writer
Seminar -- 4:15 p.m., Standish Room, Science Library, Uptown Campus
Reading -- 8:00 p.m., Standish Room, Science Library, Uptown Campus
David Treuer, prize-winning Native American author, critic and academic is the author of the highly-praised nonfiction work, Rez Life: An Indian's Journey Through Reservation Life (2012). Combining memoir, history, investigative journalism, storytelling, and public policy analysis, Rez Life provides an insider's view of modern Native American community experience. The Boston Globe called it a "blistering, illuminating, ultimately hopeful book." Son of an Ojibwe mother and Holocaust survivor father, Treuer is the author of several books including the novel The Translation of Dr. Apelles (2006), a Washington Post "Book of the Year," and the critical survey, Native American Fiction: A User's Manual (2006).
December 3: Ayana Mathis
Seminar -- 4:15 p.m., Assembly Hall, Campus Center, Uptown Campus
Reading -- 8:00 p.m., Page Hall, 135 Western Avenue, Downtown Campus
Ayana Mathis is the author of The Twelve Tribes of Hattie (2012), a widely praised first novel about a family's struggles, set against the backdrop of the African American "Great Migration" from the rural South to the urban North. A New York Times bestseller, the book was also the second selection for Oprah's newly-revived "Book Club 2.0." Writing in the New York Times, Michiko Kakutani said, "Ms. Mathis has a gift for imbuing her characters' stories with an epic dimension that recalls Toni Morrison's writing, ... but her elastic voice is thoroughly her own -- both lyrical and unsparing, meditative and visceral, and capable of giving the reader nearly complete access to her characters' minds and hearts."
Say Something!
We'd really like you to take part in the conversation here at All Over Albany. But we do have a few rules here. Don't worry, they're easy. The first: be kind. The second: treat everyone else with the same respect you'd like to see in return. Cool? Great, post away. Comments are moderated so it might take a little while for your comment to show up. Thanks for being patient.