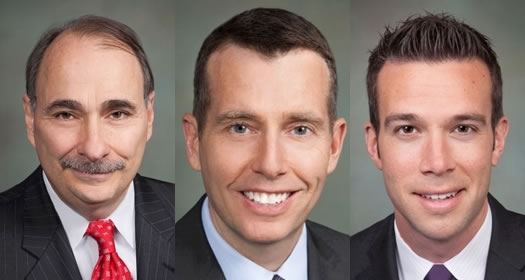 Update: Here's the link for registration.
The World Within Reach speakers series has lined up an appearance by three of top advisers on Barack Obama's two presidential campaigns: David Axelrod, David Plouffe, and John Favreau. The trio will be talking and taking questions as part of a "Inside the Obama Campaign" program September 28 at the SEFCU Arena.
This should be a pretty big event for political nerds. Axelrod was key adviser to Obama as he moved from Illinois state Senate, to the US Senate, to the White House. Plouffe was the campaign manager for the 2008 Obama presidential campaigns and then served as senior advisor to the White House. Favreau was Obama's chief speech writer for the first presidential campaign and served in the same role at the White House.
The event at UAlbany starts at 8 pm on September 28. It will be open to the public, but a ticket will be required. Details on how to get a ticket are still to come -- the UAlbany Student Association, the event's organizer, says the info will be posted on its website and Facebook page.
This is the seventh event for World Within Reach speakers series. It's put together a string of high-profile speakers, including Bill Clinton, Colin Powell, Howard Dean and Karl Rove (together), and Russell Simmons.
photos via Washington Speakers Bureau
Hi there. Comments have been closed for this item. Still have something to say? Contact us.