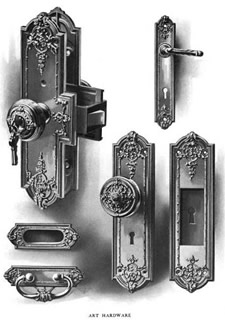 Otis emails:
Our house was built in 1880 and has a Corbin lock on the front door. The cast iron box that fits inside the door has some broken sections so it's no longer functional. Our locksmith says that there were many different Corbin locks and it's almost impossible to find a match in a working lock... but the alternative is to get rid of all our antique hardware and replace it with a modern lockset. So naturally I want to try finding a replacement.
We weren't familiar with Corbin locks, so we did a little poking around on Flickr -- and some of the examples that turned up are beauties. We can understand the desire to either fix or replace it with something similar, especially on a Victorian-style or other older home.
So, have a suggestion for where Otis can find someone to either fix this lock -- or, more likely, a place that might sell a similar replacement? Maybe someplace that specializes in working on older homes? Please share.
image via Wikipedia
Hi there. Comments have been closed for this item. Still have something to say? Contact us.