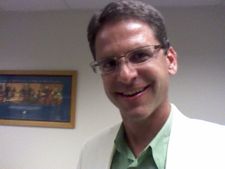 Happy Labor Day.
WEXT is airing its weekly My Exit show tonight -- where a listener picks an hour of music. It's a great way to get a look at what's on someone else's iPod, and maybe discover some music you hadn't heard before.
Tonight's show includes Barenaked Ladies, Randy Newman and Andrew Bird, among others.
Who?
Hi, I'm Chris Grill and this is my first My Exit show. I work at Empire State College in Latham, where I teach American history and politics. Hard to say much about yourself in a few lines, but some of the things I couldn't live without are: playing/watching tennis, 1930s movies, dark chocolate, and of course music.
What type of music do you like?
I have very diverse tastes, ranging from "alternative" to jazz and classical (in high school was the only person I knew of listening to Sinatra records). I'm especially fond of the great American songbook, British pub rock/punk/new wave, Philly soul, classic country, indie pop, and roots music. The playlist for my show outlines the musical journey that I've taken over the years.
A few songs from Chris' My Exit:
"Going Underground" by the Jam
With the exception of Elvis Costello & the Attractions, the Jam were my favorite British import of the late 70s and early 80s, and this propulsive song unites the raw energy and angry wit of punk with the melodic instincts of band leader Paul Weller. The social commentary in the lyrics is (unfortunately) still as relevant today as it was back then.
"Be Still" by Los Lobos
This group has spent four decades exploring the outer reaches of American roots music, and for me lead singer David Hidalgo remains one of the best vocalists around. A great song with quietly profound lyrics that you can still dance to.
"Story of You" by Jimmie Dale Gilmore
Townes Van Zandt and Jimmie Dale Gilmore are my two favorite Texas troubadours. I especially like the combination of Eastern philosophy and otherworldly voice found in Gilmore's music, both featured to great effect in this beautiful tune.
"Be My Yoko Ono" by Barenaked Ladies
I've always been drawn to melancholy songs, but music is also about joy and fun, and this song captures my goofy sense of humor. After all, what guy wouldn't want his own Yoko Ono? (At least for a while...)
"Tables & Chairs" by Andrew Bird
I prefer artists who craft beautiful, intricate melodies and see things differently in their lyrics, and Bird is one of the best today; he's a whistling musical genius. And this song of his provides my favorite post-apocalyptic scenario: there will be snacks!
"Ragtime" by Randy Newman
Of all Randy Newman's film scores this one to my mind remains the best. The haunting theme captures both my passion for American history and the music of "Americana."
You can hear Chris' My Exit show Monday night at 11 pm on 97.7, Saturday at 8 am, or at exit977.org.
Here's how to schedule your own My Exit show on WEXT.