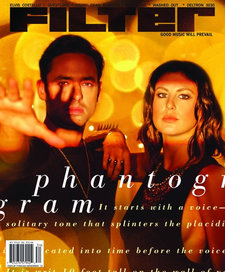 You might recognize the people on the front cover of the upcoming issue of Filter magazine: it's Josh Carter and Sarah Barthel from Phantogram.
According to the blurbage for the issue, it's Phantogram's first national magazine cover (and we can't think of another one). Earlier this summer the mag stopped by the studio in LA where Josh and Sarah were mixing their upcoming album, presumably for a feature in this issue. It's on the newsstands September 13.
That new album is set to arrive sometime this fall. And the group will be on the road touring -- the closest date to the Capital Region is December 4 in New York City at Terminal 5.
The album will be the first full length or EP since 2011 for the duo from the Saratoga Springs area. Of course, in the interim they've been recording with Big Boi, doing weird stuff with the Flaming Lips, and touring. So, they've been busy.