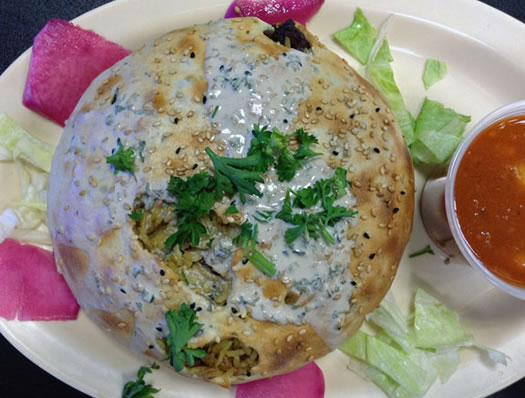 By Jeff Janssens
You hear the phrase "koozi sham" and the first thing to come to mind might be a product sold through late-night television infomercials.
In fact, Koozi Sham is a pot pie of sorts, with origins across the Middle East, its size and shape reminiscent of a curling stone -- and, I'd argue, more worth your money than any of those "As Seen on TV" products you might be tempted by.
It's also a rare dish of sorts; I'd never before seen it on the menu at a restaurant until I visited Oasis Mediterranean Café in Albany for the first time. But it's the kind of dish that is satisfying not only due to its size, but because of the complexities of tastes and textures it provides.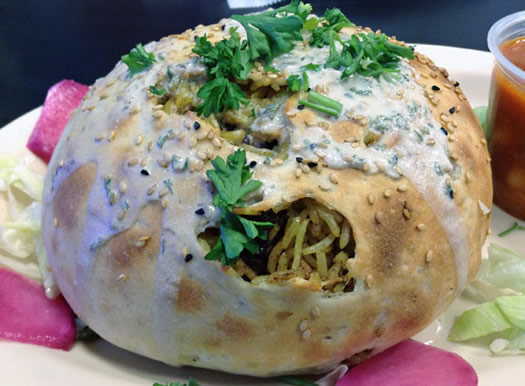 To find out more about the thought process behind adding the Koozi Sham to the menu at Oasis, I spoke with Ali Al Alusi, the owner of the restaurant, which opened earlier this year in Albany. Though the dish is Turkish in origins, it's advertised as Syrian at Oasis. The word "sham" refers to the Damascus region in Syria, "koozi" means "something enclosed," according to Al Alusi.
"Back when the Ottoman Empire expanded and took over the entire Middle East, it passed through into Syrian cuisine and there were changes to the spices and seasonings," explains Al Alusi. Some of those changes can be seen in the version made by Oasis chef Zaid Albaker. That secret blend of spices imparts a rich, earthy flavor throughout the Koozi Sham, brightened by a hint of cinnamon.
At Oasis, they roll out their own dough in the kitchen and then stuff the shell with a variety of ingredients, including some that can be tailored to the diner's preferences. The main part of the filling is basmati rice, long grain and cooked to a perfect al dente texture; this provided a light nutty flavor to complement the spices. While beef or chicken are the most common featured elements of the Koozi Sham, Oasis is happy to provide substitutions such as chickpeas or eggplant for vegans and vegetarians.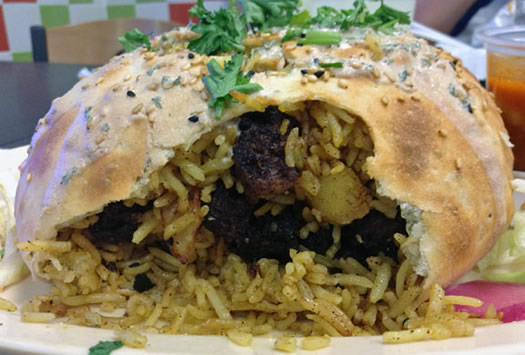 I chose beef, and found the pot pie to be generously filled with bite-size chunks of it -- reminiscent of gyro meat in terms of taste and texture, with a bit of crust similar to the effect of being cooked on a griddle. The variety of elements in the pot pie is enjoyable both in terms of taste and texture; along with the rice there are potatoes and grilled onions, which add textural contrast and depth of flavor. Black and white sesame seeds cover the top of the shell of dough, along with a drizzle of tahini sauce, which adds a hint of sourness to balance out the richness of the Koozi Sham's filling.
The surprise star of the meal, however, is a slightly-spicy, tomato-based sauce served in a small plastic cup along side the Koozi Sham. Meant to be poured over the top of the filling once you've broken open the shell of the pot pie, the sauce -- which includes white beans -- could probably double as a simple, yet delicious soup. Al Alusi describes it as being garlicky and containing cumin -- a spice he's particularly fond of -- along with other seasonings which he wanted to keep secret. (The sauce is also used, sans beans, atop the restaurant's Kushari, an Egyptian dish featuring layers of pasta, rice, and lentils.)
Oasis maintains just a small storefront on Delaware Avenue, just south of the main Lark corridor, which is "more of a takeout style restaurant," according to Al Alusi, though there are a handful of tables and the interior of the restaurant is bright and pleasant.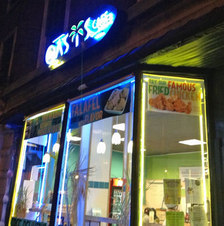 It's hard not to be charmed by both the food at Oasis and the owner's optimism and determination. Al Alusi was born in Atlanta, Georgia, and has lived in a dozen states since then, and says he was living in the Middle East when he met the chef, Albaker, who he describes as "[his] brother" prior to coming to Albany. At first he wasn't sure that a Mediterranean restaurant would be right for this area, but he hit the streets to find out. "I spent three months working on the menu," Al Alusi says, in the process paying close attention to locals he surveyed. In the end, he took an initial menu of 27 items and streamlined it down to the current 15, finding a positive response from customers.
Al Alusi has found Albany to be an excellent locale for his new business, particularly with the recent growth in technology and education in the area. "I see this town growing and expanding, and we might as well grow with it."
Jeff Janssens writes about food beer at The Masticating Monkey.
Find It
Oasis Mediterranean Cafe
4 Delaware Ave
Albany, NY 12210
Hi there. Comments have been closed for this item. Still have something to say? Contact us.