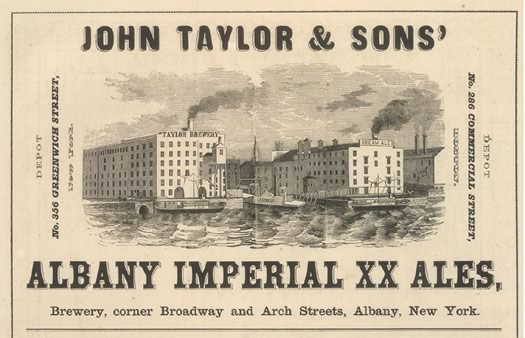 Beer writers/historians Craig Gravina and Alan McLeod have launched website for the the Albany Ale Project. Blurbage:
Growing since 2010, this international research endeavor has been dubbed the Albany Ale Project, and is focused on bringing the history and stories of an industry that helped to build the capital city of New York to light. Although Albany Ale no longer exists, the research being done by the Albany Ale Project is increasing interest in the oft-forgotten history of Albany's brewing past - and the Ale that accompanied it.
The project's website includes material on the long history of brewing in Albany.
But get this -- part of the project is to recreate some of the beers of Albany's past. To do that, they say they're collaborating with the C.H. Evans Brewing Company at the Pump Station and The Homebrew Emporium:
The first beer to be re-created is a 1901 recipe for Albany XX Ale, originally made by the Amsdell Brewing and Malting Company--the last brewery to make something called "Albany Ale". The basis for this recreation is from an Amsdell brew log held in the collections of the Albany Institute of History & Art.
Here's the recreated beer's description: "Amber hued, C.H. Evans' version of Amdell's 1901 Albany XX Ale, is a slightly sweet XX ale brewed with 100% New York grown 6-row pale and black malt, and corn grits. Brewery-made dark invert and corn sugar are also used, bringing the 1901's ABV to 5.3%; and New York grown heritage hops give it a mildly hoppy finish, at 23 IBUs."
We hear from Gravina that they're aiming for an early November release for the recreated beer (with more details closer to the release date).
image from the Albany Institute of History and Art's collection, via the Albany Ale Project
Hi there. Comments have been closed for this item. Still have something to say? Contact us.