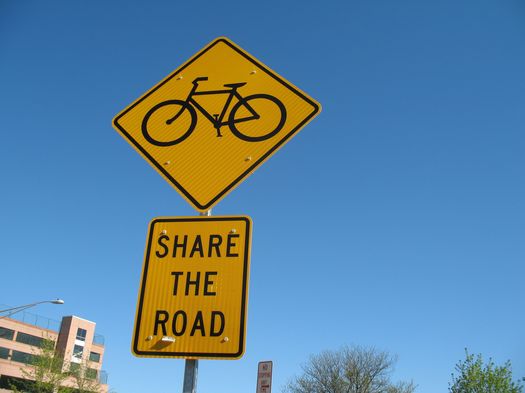 Alison emails:
Can we talk about something? Bicycle riding on the sidewalks seems to be on the rise. I'm a believer that the sidewalk is for pedestrians, and that the bicycles go in the street (exceptions if you're under 15). I noticed that in west coast cities bicycling on the sidewalk was ubiquitous, but appreciated that our east coast corner of the country did a better job of keeping the wheeled traffic on the proper side of the walkway.
But there's a shift happening, and I don't like it. We can reverse this. And safety-wise, I know we're not a city replete with designated bike lanes, however, oddly enough, accidents decrease when there are no bike lanes in the streets. Because when you're right there next to the cars, the cars are more cautious. You don't have a siphoned off safe space...you know it, and the cars know it. It's human behavior at it's oddest (this isn't praise for our lack of lanes, just truth). So my question is this: adults on bikes on city sidewalks: friend or foe?
As avowed pedestrians, we generally frown on cycles on the sidewalk because we don't like dodging bikes, especially when they approach from behind without warning. And in many places -- such as the city of Albany -- it's against the law (if you're not under 10 years of age) to ride a bike on the sidewalk.*
That said, having seen some less than accommodating behavior by motorists with regard to bicycles on streets around town, well, we can't exactly blame someone for taking refuge on the sidewalk in some stretches. And while we've heard the claims (and counter claims) about how bikes and cars flowing together is a good thing -- as Alison states above -- we're skeptical. Maybe it works OK if you're a confident, in-shape cyclist. But you shouldn't have to be Hardcore Bike Guy to tool around town on a bike.
This specific topic -- and Alison's question -- get at the broader issue that legislation like Albany's recently-passed "Complete Streets" ordinance is intended to address going forward: that streets should be designed to safely accommodate cars, bikes, transit, and pedestrians.
One arrangement that we've thought could be good for the Capital Region: bike lanes like those in Copenhagen -- where it's traffic | parked cars| bike lane | curb. Of course, you need a wide street for that arrangement. But, as an example: one of the options in the "road diet" proposed for Madison Ave in Albany includes lanes for traffic, bikes, and parked cars (in that order). So maybe there's a way to make it work.
* Other parts of city code related to bikes: all bikes are required to have a bell, and there's an 8 mph speed limit.
Hi there. Comments have been closed for this item. Still have something to say? Contact us.