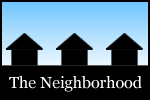 Among the topics in this most recent spin around the Capital Region's online neighborhood: 25 years in Albany, the Veggie Mobile, volunteering, excellent caterpillars, the Hyde Collection, the Adirondacks, public bathroom etiquette, drag racing in Buffalo, banh mi in Montreal, downtown Saratoga Springs, brunch, an odd duck, and congratulations.
Silvia reflected on the 25 years since she moved to Albany.
Jen volunteered with the Veggie Mobile.
Wayfarer Christine volunteered at a camp for the kids of backstretch workers.
Jackie happened upon some excellent caterpillars on her walks in Saratoga County. (That caterpillar in that last link is crazy -- like something from Dr. Seuss.)
The Exiles went to the Hyde Collection to check out the Georgia O'Keeffe exhibit (it closes soon).
Jona had a not so good experience hiking in the Adirondacks.
Katelyn had a busy summer.
One of Kristi's readers asked about public bathroom etiquette.
Reports from abroad: Jon on a drag-race-anything-you-want-night at a speedway in Buffalo, and J+R on banh mi in Montreal.
Skidmore Unofficial is back a series of guides -- among them: Skidmore Unofficial's Official Run Down of Down Town.
Ashley brunched at Hattie's.
Chuck captured some scenes around the Cohoes Falls.
Crystal shared some almost-after pics of their bathroom remodel at their house in Troy.
Paula spotted an odd duck in Washington Park.
Hi there. Comments have been closed for this item. Still have something to say? Contact us.