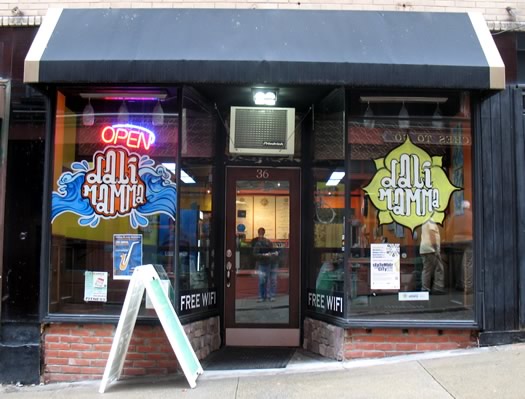 By Elisabeth Draper
When Katrin Haldeman conceived the name "Dali Mamma" she wasn't exactly sure what it would be. She just knew that she liked the name. Over time, Haldeman decided that her love for, and the healing power of, food would be best channeled into a cafe --and the Dali Mamma was born.
Upon entering the Dali Mamma, a small cafe on Maiden Lane in downtown Albany, you're almost immediately greeted by owner Katrin Haldeman and her crew. "I strive to create a personal connection to my customers and I try to learn everyone's name," said Haldeman.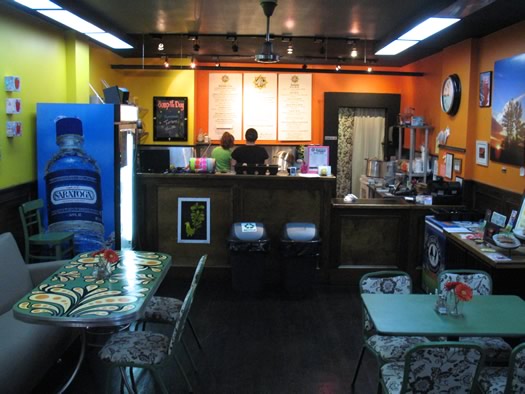 Haldeman's desire to connect with her customers stems from her experiences at Francesca's Cafe in Troy. "Francesca does that and I love being her customer, so I brought that to my cafe." It can't be easy to learn all of those names; since opening in Albany in February, Haldeman said business has steadily improved and isn't slowing down.
The Dali Mamma first opened about a year ago in a temporary location in Cohoes while looking for a permanent home. After a search for potential locations yielded few results in downtown Albany, she focused on opening the cafe in Saratoga Springs. However, the space Haldeman wanted to lease in Saratoga would have demanded longer hours, so she kept looking. "We refocused our search and cast a wider net. The Maiden Lane space was suddenly available and exactly what we needed," remarked Haldeman.
Downtown Albany has a lot of lunch spots. Dali Mamma is trying to stand out from the crowd through its commitment to local produce and goods. "I feel an obligation to support local farmers and the local food supply; I know my suppliers, my neighbors, and my customers know me -- it's my contribution to the larger community" says Haldeman.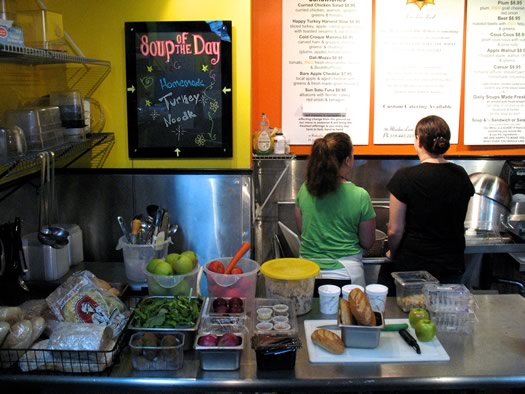 So, locally-sourced grassfed beef from Buckley Farms in Rensselaer County is standard in the chili (her mother's recipe) and Haldeman gets her poultry from Buckley, as well. One of the most popular menu items -- the "Dali-Mozza" -- is a tomato, mozzarella and pesto sandwich on ciabatta bread. The cheese is from R & G Cheese Makers, based in Cohoes, and the pesto is from Buddhapesto, based in Woodstock and available at the Troy Farmers' Market and he Honest Weight Food Coop. Haldeman says she also procures as much local produce as she can, and many of her sandwich accouterments (mustard, dressing, etc.) are her own recipes.
Growing up in the 1970s Haldeman's sister was diagnosed as hyperactive -- Haldeman credits her mother, Marianne, for rejecting traditional treatments for hyperactivity and adopting the Feingold Diet. Recalled Haldeman: "This was a time when processed foods were really coming into their own and preservatives and additives were in everything, so my mom had a very challenging time sourcing ingredients for our meals, but she did it. My mom insisted on cooking meals made with whole, real ingredients and little to no processed foods."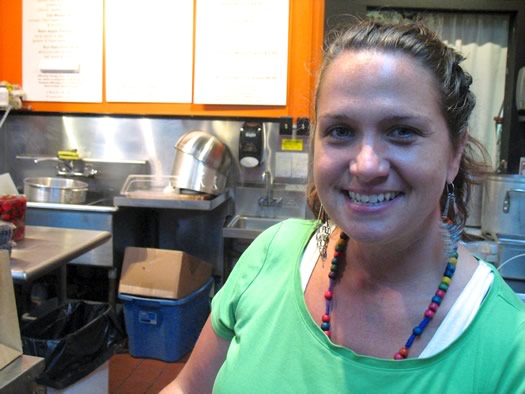 Katrin Haldeman
Her life experiences are apparent when you view the menu at the Dali Mamma. The menu is simple, but the flavors are big and the quality of the food is impressive. This quality comes at a cost, however. Sandwiches at the Dali Mamma will run you around $9, which is on the higher end of the range for downtown to-go lunch spots. Haldeman recognizes that her price points may be slightly higher than other sandwich places, but she feels that her customers appreciate what they're getting and knowing where it's coming from. "My costs are inherently higher because I'm purchasing from local suppliers; but I truly believe that a local approach to food is going to become the norm in the future; factory farming and huge agribusiness just isn't sustainable from an environmental standpoint."
In addition to working at the Dali Mamma, Haldeman also founded the Traveling Taste Buds program to help kids at the Albany Boys and Girls Club learn about the importance of eating well. Several times a year groups of kids come to the cafe and learn, firsthand, about healthy eating. The hope is that their experience will extend beyond the Dali Mamma and into their community and homes. Haldeman believes that working with children is another facet of the larger goal for the ground-up approach of her business. "I truly believe that community is everything -- from knowing my suppliers, my customers, and being able to implement Traveling Taste Buds program -- it all helps to bolster the community and bring about change from the ground up."
The Dali Mamma quick overview
Where and when: 36 Maiden Lane, between N Pearl and James St. Open Monday-Friday 11am-3pm.
What: Salads, sandwiches, and homemade soups. Lots of vegetarian (some vegan) options. Focus on sourcing locally.
Recommendation: Curry Chicken Salad with curried chicken, walnuts, grapes, greens and tomato. Dali-Mozza: tomato, R&G (local) fresh mozzarella cheese with Buddhapesto on ciabatta bread.
Find It
Dali Mamma
36 Maiden Ln
Albany, NY 12207
Say Something!
We'd really like you to take part in the conversation here at All Over Albany. But we do have a few rules here. Don't worry, they're easy. The first: be kind. The second: treat everyone else with the same respect you'd like to see in return. Cool? Great, post away. Comments are moderated so it might take a little while for your comment to show up. Thanks for being patient.