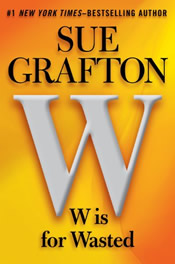 From the "Unusual Conferences in Town" file: The 44th annual Bouchercon will be at the ESP Convention Center this Thursday-Sunday. It is, in its own words, "the world's leading convention for crime fiction readers, writers and others." The convention is named after mystery/science fiction author and editor Anthony Boucher.
The headliner for this year's conference is super-best-selling mystery author Sue Grafton. (She's now up to the letter the W.) On Saturday at the conference Grafton is scheduled to appear at a signing, and also be the subject of a lifetime achievement interview on stage. (She's also scheduled to make an appearance at the Bethlehem Public Library for a residents-only event -- the tickets for that event were all claimed within 12 minutes of being released earlier this month.)
The registration fee for the conference is $175. According to the conference FAQ, there might also be day passes for $80, only available at the door.
Curious about topics at a convention for mystery writers and readers, we skimmed through the list of panel topics. Among them...
+ She's Got a Way: Methods of murder
+ When in Rome: Murder is everywhere
+ Angry Young Man: What drives the private eye
+ You're Only Human: Secret powers & other little-known talents that would make us great Super Heroes... or Villains
+ Easy Money: Making finance thrilling
+ Stop in Nevada: If the IRS asks, it's research: places we've visited, people we've met and boneheaded things we've tried all in the name of a story
+ If I Only Had the Words (to tell you): Four-legged sleuthing
+ Big Man on Mulberry Street: Creating the perfect villain
+ And So It Goes: Beyond Doyle and Holmes