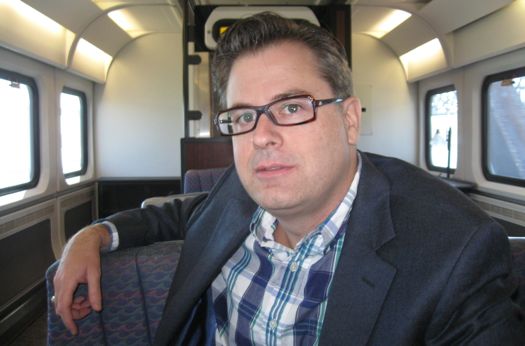 It's Monday -- time to check out a new My Exit play list. Tonight and every Monday, WEXT gives a listener a shot at picking the music. It's a chance to check out what's in someone else's collection and either find some of your own favorites, or discover something new.
This week, you might do both. DJ Darren Shupe pulls an eclectic playlist from his youth that includes Motown songwriters, psychedelic rock, and some seldom-played French progressive.
Who?
I'm Darren Shupe, from Sacramento, California originally, and I grew up in Kailua, Hawaii. I've lived in Sacramento, San Francisco, and NYC primarily since then, and in Albany for the past three years. I primarily sell historical artifacts for a living -- first editions of books, early magazines, etc., but I also was a financial advisor for many years, and still do that for a few of my old clients.
How would you describe your taste in music?
I like many varieties of music, but I'm currently infatuated with 60s and early 70s jazz -- think Coltrane, Pharoah Sanders, and the like. But the programming for my one-hour show doesn't really reflect that, because it's intended to showcase the kind of music I grew up with, and what I played when I was a high school and college disc jockey.
Five songs from Darren's My Exit:
Chrome - "You've Been Duplicated"
What a great song from an underrated band. An understated yet urgent song from 1979's "Half-Machine Lip Moves." A great example of why San Francisco still remained very relevant after Jann Wenner packed Rolling Stone up and moved it to NYC in 1977, and a subversive yet accessible tune.
Laura Nyro - "Sweet Blindness"
A terrific track from a composer and artist who remains undervalued today. More people probably know her songs from 5th Dimension covers than from her own work. She had a "beautiful vision," as I suppose Van Morrison would have it, and her songwriting is up with the best of Goffin and King. I would have probably played the entire "New York Tendaberry" album (this is from "Eli and the Thirteenth Confession"), but I only had an hour...
Gong - "Fohat Digs Holes in Space"
From the "Camembert Electrique" album, which I enjoyed playing at maximum volume to freak people out in college. It travels from a dreamy sort of space-out to a full-on psychedelic onslaught; the kind of thing you want to listen to when you're feeling a bit frisky and don't mind annoying the neighbors. ;) And especially if a little medicinal happiness, Colorado or Washington-style, is involved.
Magma - "Mekanik Kommandoh"
I can almost guarantee you that you will never hear this on any other radio station, commercial or otherwise, this or any other year. This is a freakout of epic proportions. And it's great. Magma were essentially the vision of Christian Vander, and were legendary among fans of psychedelic rock(?). I hesitate to even label this music. Listen and enjoy.
Steely Dan - "Do It Again"
This is from the legendary Record Plant session at their Los Angeles location on April 20, 1974. (There were other Record Plant locations in NYC and in Marin County.) Eight minutes of incredible playing. Jeff "Skunk" Baxter on guitar just before he left to join the Doobie Brothers, and the band really at their finest. I have several bootlegs from this tour, and this is by far the best, having been broadcast over KMET (and I think from there over the Westwood One network).
You can hear Darren's My Exit show Monday night at 11 pm on 97.7, Saturday at 8 am, or at exit977.org.
Here's how to schedule your own My Exit show on WEXT.