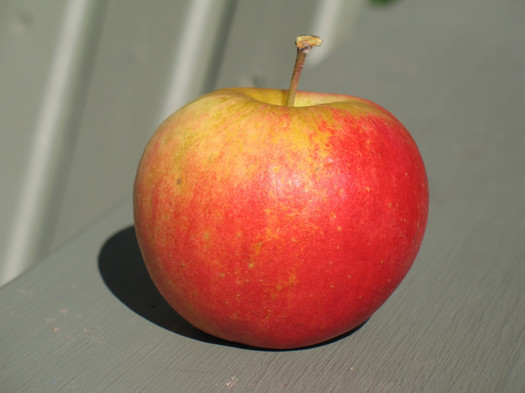 5. Honeycrisp
A popular pick. And its ability to grow in colder climes is admirable. But some real talk: Honeycrisps are sweet and little else. They lack complexity. It's like they're just a bit too eager for you to like them. And have you seen the gargantuan size of some of the apples in stores lately? Too much. Let the masses eat Honeycrisps -- you can do better.
4. Gala
The Gala is easy to eat. We can't speak ill of this good-natured New Zealand import. We just sometimes wish there was a little more going on in there. Must it be happy all the time?
3. Akane
Perhaps not well known, but a noble variety. It has strong parentage -- both the English Worcester Pearmain and that American icon the Jonathan -- brought together in Japan. The Akane is like a life well-lived: sweet, with enough sour to help us appreciate the sugar.
2. Sansa
Sweet with notes of complicating acid. A reassuring firmness. A subtly textured skin that suggests it doesn't really care what you think. Another Japanese import, a product of the Gala and the Akane. It is a reminder that we may all eventually be replaced.
1. McIntosh
An icon. That crimson skin. The pale flesh revealed by a bite. The tart with a touch of sweet that's also somehow old. A candidate to be placed among the items on a space probe in an attempt to convince faraway worlds that a sophisiticated society resides on our remote blue marble. And to think -- it's Canadian.
Hi there. Comments have been closed for this item. Still have something to say? Contact us.