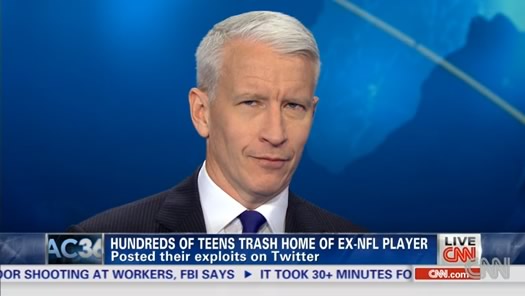 Coming up: A Wolf Blitzer muummuu. But first...
Bad Decisions. Outrage. Silver fox sassiness.
Anderson Cooper 360 had a segment Thursday night about the huge unauthorized party that trashed the Rensselaer County house that belongs to former NFL player Brian Holloway, and Holloway's subsequent effort to shame the teens allegedly involved by posting their images on a website. (The story's since been covered by outlets all around the country.)
After the package by Randi Kaye, Anderson Cooper riffed on one of the tweets that was apparently posted from the party:
"First of all, how lame is it that someone tweeted the 518? I mean... please, what is that, upstate New York somewhere?"
"Yeah, man, 518. Woo. Rockin' it. Keepin' it real in the 518. That's how we roll... in [Oh-needa], New York... not that's there's anything wrong with [Oh-needa], New York..."
Later in the show, AC highlighted the Wolf Blitzer muummuu that Man Man's Ryan Kattner wore at Rest Fest.
(Thanks, Duncan.)
screengrab: CNN
Hi there. Comments have been closed for this item. Still have something to say? Contact us.