By Tim Dawkins
The owners of Hoffman's Playland, the half-a-century-old children's amusement park in Latham, announced this summer that they're planning to retire and, unless someone steps in to take it over, the park may close after next season. Tim Dawkins is one of many Capital Region residents who grew up with Hoffman's -- he even worked there for five summers.
In the summer of 1989 I was 9 years old, and I was playing baseball as a member of the Cohoes Little League.
It had been a rough season.
Early on I was hit in the head with a baseball at practice, and it ruined me. I was conditioned to jump out of the batter's box. I hadn't gotten a hit all season. I most certainly would have quit, but my dad believes that once you start something, you finish it. Since quitting wasn't an option, I knew I needed motivation.
That's when it hit me: Hoffman's Playland. I absolutely LOVED going to Hoffman's. I didn't know very many kids who didn't love Hoffman's. That was the pot at the end of my rainbow (I was 9, people). I vividly remember announcing this epic idea to my parents: if I got a hit, they had to take me to Hoffman's and give me an entire book of 25 tickets all to myself! My parents were awesome, but also -- I think -- pretty desperate to see me get a hit.
They went for the plan.
Fast forward several weeks. I got my first hit of the season. My only hit of the season. As I safely made it to first base (thanks to an overthrow by the shortstop), I shouted across the field to my mom in the stands, "Hey mom! We're going to Hoffman's!"
When I heard that Hoffman's may close at the end of next season, an unexpected sadness hit me. Dave and Ruth Hoffman are ready to retire and open up a new chapter in their lives. And who can blame them. The Hoffmans have given most of their lives to making Capital Region kids and their families happy. They deserve some of that time back.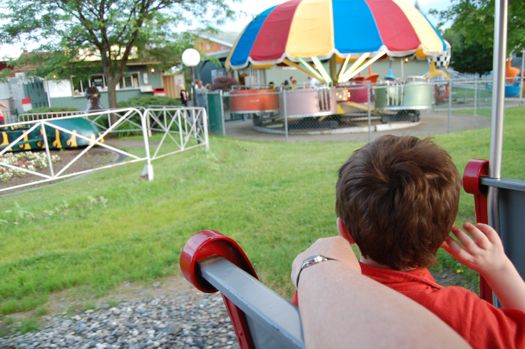 Still, the playland's closing is not just another business shutting its doors. It stands out among the endless tracts of development on Route 9 in Latham. It is childhood memories enclosed in a wrought iron fence. It's eating bags of cotton candy and popcorn and feeling sick after too much spinning. It's knowing that you're probably going to get bruised riding the little roller coaster, but doing it anyway. As a kid I loved to ride the tilt-a-whirl, tried not to get sick on the flying paratroopers, and make ghost sounds with everyone else as we chugged along on the train through that long, shed-like tunnel.
How often in the 21st century are we able to take a piece of childhood, mostly untouched, and share it with subsequent generations? In the fast-paced world that we live in, Hoffman's is an oasis of a time gone by. Once it's gone, we'll never be able to get that back.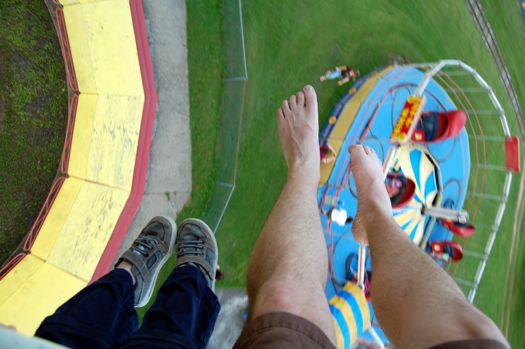 Hoffman's Playland was an integral piece of my childhood, but I know I'm not alone. In its half-century history, it's played a part in the childhoods of so many people in the Capital Region. Such a simple idea, brought to life, has withstood the test of time. They've added a few rides here and there, but it's still the same place. Even the prices have hardly changed.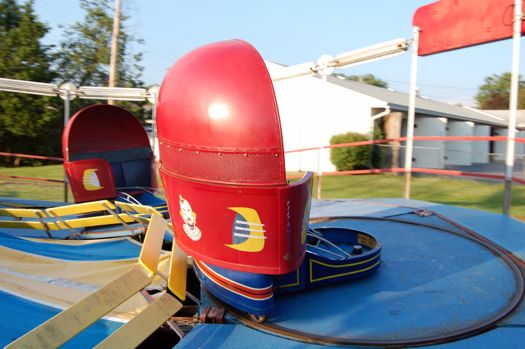 Like so many other teenagers in our area, I spent five summers of my adolescent life working at Hoffman's. At 16 I ran the kiddie rides at the playland; the boats, the trucks, or the caterpillar -- always under the watchful eye of Dave Hoffman and his ever-present German shepherd sidekick Joel, one of the nicest, most obedient dogs you could ever meet. Eventually I graduated to the Ferris wheel and the scrambler.
But my favorite job, hands down, was driving the train. Then I'd hit the big time. I was a huge hit with the 3 and 4-year-old set. Kids would point me out in public -- "Hey! You drive the train at Hoffman's!" I was the Spongebob Squarepants of carnival rides. (This is also how I met my wife, but that's a story for another day.)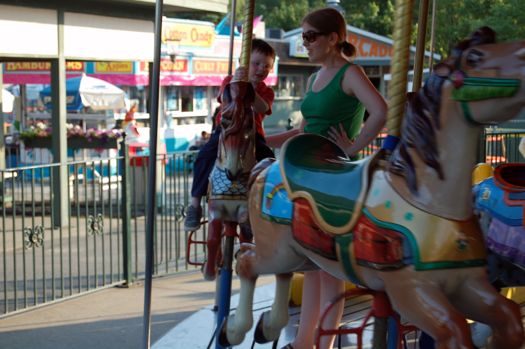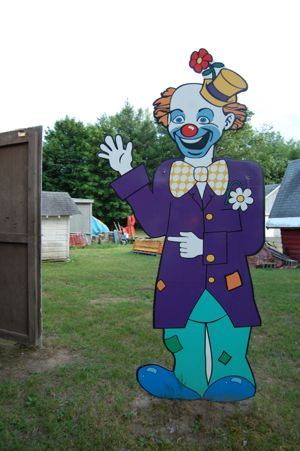 I always assumed, naively, that the big sign out front with the smiling clown would be lit forever for future generations to enjoy. But I guess nothing lasts forever. Still, losing it feels a little bit like one more heavy step away from those carefree days when I had no responsibilities beyond the moment. I enjoy being an adult, but when I take my nephews to Hoffman's, I'm a kid again. Our goals are simple: have fun together. Laugh. Get dizzy. The train is always waiting. That creepy wooden clown is always waving, predictably, as we enter the tunnel. Everyone makes a ghost sound, and suddenly my past is right there sitting next to me. And in the end, that's what I'll miss the most when Hoffman's shuts its gates for the last time. A little piece of me will be locked up with it.
Tim Dawkins is the guy who used to drive the train at Hoffman's Playland.
By the way: This coming weekend is the last scheduled weekend of the season for the playland.
Hi there. Comments have been closed for this item. Still have something to say? Contact us.