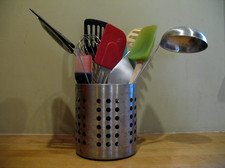 We've pulled together a list of upcoming cooking classes that look interesting or fun a few times before and people seem to like it.
So, here's a new batch of classes for the next few months -- from hard cider, to cooking basics, to gourmet cheese, to food allergies, to desserts on fire, to finding your soulmate in the kitchen...
This is not a comprehensive listing. If there's something not on her that you think is worth a mention, please share!
A lot of these classes tend to sell out -- quickly. So if something catches your eye, better to sign up earlier than later.
September 26: DIY Hard Cider | Honest Weight
Brandon Bissell-Evans with an "introduction to the Northeastern tradition of hard cider brewing, participants will learn the history of fermented cider production and how to brew their own at home." 6 pm - free (registration required)
September 27: Girls Night Out: All About Apples | Healthy Living Market
A ladies night that starts with pairing wines with apples, then dishes featuring pork and apples, cabbage and apples, tart tatin. 5 pm - $95 per pair
October 4: Couples Cooking Basics | Gio Culinary Studio
"Student couples will learn to prepare a full dinner while working together, using professional and classic techniques that are easily duplicated at home. This is a 3 hour, hands-on class along with demonstration." 6 pm - $110 per couple
October 8: Croissants from scratch | Gio Culinary Studio
A hands-on class on making plain croissant, pain au chocolat, almond croissant, prosciutto and cheese croissant. 6:15 pm - $65
October 9: Secrets of perfect risotto | Gio Culinary Studio
Hands-on class learning "the secrets to creating perfect risotto dishes using traditional techniques and restaurant secrets." 6:15 pm - $65
October 10: Gourmet Cheese Plates | Different Drummer's Kitchen
An instructional tasting with The Cheese Traveler's Eric Paul. The basics of goat, sheep, and cow's milk cheeses -- and how to compose a cheese plate. 6 pm - $65
October 10: Dare to Dairy | Healthy Living Market
Christina Davis on the "ins-and-outs of at home dairy production" -- butter, cultured buttermilk, yogurt, ricotta, and 30-minute mozzarella. Demo and hands-on. 5:30 pm - $20
October 17: Crepes 101 | Arts Center
Amy Halloran on the basics of making crepes, including cornmeal and buckwheat crepes. 6:30 pm - $55
October 22: Find Your Soulmate in the Kitchen, Hands-on | Different Drummer's Kitchen
New World chef Ric Orlando and Silly Goose Farm's Deanna Fox pair cooking and dating. "Students will work in rotating pairs to create a winning recipe for fun, flirtation, and fine dining." 6 pm - $69
October 27: Makin' Bacon | Arts Center
Erika Tebbens returns with her popular class about how to home-cure bacon. 12:30 pm - $65
October 28: Food Allergies: How to shop, stock your pantry, dine out, cook, and advocate for loved ones | Arts Center
The From Scratch Club's Christina Davis on how to adapt to shopping and cooking for someone with life-threatening food allergies (she has a lot of experience doing so for her son). Also: "demonstrations of a variety of recipes for the food allergic of any of the Top 8 Allergens (Wheat, Dairy, Soy, Tree Nuts, Peanuts, Sesame, Egg, Shellfish and Fish)." 6 pm - $60
October 28: Japanese Small Plates | Different Drummer's Kitchen
Chef Yasuo Saso and his wife Kathy Saso on making "otsumami" -- Japanese small plates. 6 pm - $60
October 29: Cuban Cuisine from Carmen's Restaurant | Different Drummer's Kitchen
Carmen's executive chef Chris Faraci on three of his favorite Cuban dishes. 6 pm - $65
October 29: Desserts on fire | Gio Culinary Studio
"Students will learn how to make three impressive and delicious desserts that are finished safely with fire! We will be using all scratch ingredients and professional techniques, that are easily duplicated at home." 6:15 pm - $65
October 29: Dia de Los Muertos Celebration | Honest Weight
Julianna Glassanos on the history and culture of the holiday, as well as how to make some of its sweet treats, including pan de muerto. 5 pm - free (registration required)
October 30: Egg-Stravaganza | Spoon & Whisk
"Chef Patrick Mannato will share poaching techniques, prepare the perfect omelet, and create a mouthwatering dinner frittata and classic mini quiche Lorraines." 7 pm - $45
November 12: Knife Skills, hands-on | Different Drummer's Kitchen
Lynn Sunderland in a hands-on demo of "how to dice, slice, chiffonade, julienne, and perform other techniques." Also knife care and sharpening. 6 pm - $55
November 6 and 13: Thunder Mountain Curry: Market Favorites | Arts Center
Thunder Mountain Curry chef Mike Gordon on "the secrets to his most popular dishes, including Pakora, Pad Thai, and Sticky Rice with Mango." 6 pm - $105
November 25: Fish 101 | Different Drummer's Kitchen
Chef Mark Graham, who's now at Taste, and fishmonger Doug Brickman on cooking and sourcing fish. 6 pm - $75
December 3: Charcuterie, hands-on | Different Drummer's Kitchen
Chris Faraci on the step-by-step process of creating cured bacon, chorizo, and Cuban pancetta. 6 pm - $65
December 17: New World Holiday | Different Drummer's Kitchen
Ric Orlando shares "his flare for fusion cooking and his love of global cuisine to bring new twist to holiday classics." 6 pm - $69

The Arts Center and Honest Weight advertise on AOA.
Hi there. Comments have been closed for this item. Still have something to say? Contact us.