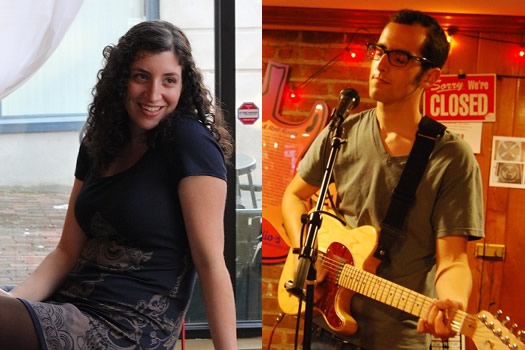 This week, WEXT has two listener DJs on My Exit, and the music takes us from French Cartoons to sitars to Aretha Franklin.
After the jump, more about DJs Zan and Ben and their upcoming show.
About Zan
I'm Zan Strumfeld -- a local Zealous Scribbler, a.k.a. reporter-singer-songwriter enthusiast. I've spent the last 23 years creating a complex music collection that often corresponds with the weather. My taste ranges from the depths of rock n' roll to the comfort of folk to sultry jazz and blues and everything in between. I've even dipped my toes into quite a bit of punk and I'll never regret my Backstreet Boys CD purchases.
Teaming up with Ben Himmelfarb for a very special "Our Exit," I was limited in selecting my choices. To make it a bit simpler, I chose some of my most cherished albums and picked a song from each to symbolize the album as a whole.
A few songs from Zan
"Belleville Rendez-Vous" - Triplets of Belleville Soundtrack
The Triplets of Belleville, a French animated silent film, is one of the best movies I've ever seen. It's filled with mainly gypsy jazz tunes and this particular song makes me feel so ... alive.
"At Night Trees Aren't Sleeping" - of Montreal
While of Montreal is now known for its psychedelic, colorful catastrophes, the very first album -- my favorite -- is raw and delicate. It was hard to pick one song from this album, but this track really makes you sit back and hear the beginning stages of what would become crazy and busy songs in the future.
"This Side" - Nickel Creek
Before there was Punch Brothers, before Chris Thile became a MacArthur fellow, there was Nickel Creek -- a progressive, pop-bluegrass trio. They're so '90s, but in the best way. "This Side" holds one of my favorite lyrics ("only the curious have something to find") which I've always thought of getting tattooed; unfortunately, I have commitment issues.
"Exactly Like You" - Aretha Franklin
I really love the Queens (i.e. Joni Mitchell, Queen of Folk). Aretha is the everlasting Queen of Soul and she really knows how to get you to feel everything, move your body and take a step back and breathe, all at the same time. I saw her last year at Radio City Music Hall in this gold, glittery mu-mu and it was the greatest two hours of my life. I cried the whole time, so I really couldn't tell you what songs she sang.
"I'll Be Your Lampshade" - Beulah
Beulah is best heard while driving with your windows down on a sunny autumn day. I'm one for lyrics, especially ones that tell stories. This tune proposes some sort of odd infatuation with someone. "I hope you know you'll always be the life of the party" - rings through the entire song until the last line when - ah! - it's revealed: "there never was a party at all." What the hell could this mean? Looks like the person is the party of ... life.
About Ben
I am Ben Himmelfarb from Albany, New York. I am a graduate student in information science/history and work at the Albany Public Library. I spend most of my time thinking about music -- listening, playing, writing, recording.
I like soulful, rootsy music. My current listening runs from American folk anthologies to Ellington jazz to Ali Akbar Khan to honky tonk.
A few of Ben's selections
"Old Time Religion" - the Staple Singers
The loose-but-tight harmonies moved me so much when I first heard this that I listened to the first 1:30 over and over again for days, listening to Pop Staples sweetly bend his notes.
"Lover's Prayer" - Van Morrison
Van Morrison's blend of soul, country, and Celtic folk hits the sweet spot for me and the lyrics of this song are charmingly homey and honest.
"Svara Mantra" - Ravi Shankar
I always loved the sounds of Eastern musics and when I heard this song and learned it on guitar I was amazed to find the overlap between the licks Ravi Shankar was playing with licks from the Allman Brothers.
"Beautiful Thing" - Eric Clapton
Richard Manuel of The Band composed this song and plays on this track. He is an overlooked talent whose sensitivity and vulnerable performances are some of the most heart-wrenching in recorded music.
"Meeting Tonight" - James Cleveland
Cleveland is a giant of American gospel music, responsible for amazing arrangements and powerful performances that anyone interested in going deeper with gospel music should listen to.
You can hear Zan and Ben's My Exit show Monday night at 11 pm on 97.7, Saturday at 8 am, or at exit977.org.
Here's how to schedule your own My Exit show on WEXT.