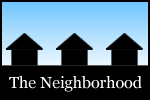 Among the topics in this most recent spin around the Capital Region's online neighborhood: Ragnar, love and hate, suggestions, a Troy neighborhood, gorgeous days, the Adirondacks, monarchs, chicken parm, Round Lake, sandwiches, apples, Wegmans, an outgoing person, a waterwheel, faster than a walk, an hour's difference, the solar system.
Jen and her team crossed the finish line at the Ragnar Relay.
Silvia shared some "love and hate in the 518."
The Idiots had some suggestions for some of the spots in Saratoga.
The arrival of yoga studio further convinced Jessica that her Troy neighborhood "is the best neighborhood of all time."
Jackie took in day after gorgeous recent fall day, in the Adirondacks and at Moreau Lake.
Greg hiked another summit in the Adirondacks, along with a special beer.
The Bee Balm Gal savored a rare recent sighting of a Monarch butterfly in Spa State Park.
Jerry stopped into Canali's for chicken parm.
Ashley checked out Lake Ridge Restaurant in Round Lake.
One of Steve's readers asked for Adirondack lunch recommendations.
Two Mr. Dave sandwich creations: a french fry burger at Five Guys, and grilled headcheese from Rolf's.
When life gave Albany Jane apples, she turned them into apple butter.
From far afield, Daniel is being drawn into the cult of Wegmans.
Kristi encountered a rather outgoing person the Snowman.
Albaniana and her kids got a look at the Half Moon replica docked in Albany. (And made a wish on the way there.)
Chuck explored an old waterwheel in Greenfield.
Via Carl: "ONE DOLLAR FINE FOR CROSSING THIS BRIDGE FASTER THAN ON A WALK."
Randal biked to beer, to art, and to lunch. Not bad.
The Exile noted the difference an hour makes.
And Paula spotted the solar system on a sidewalk.