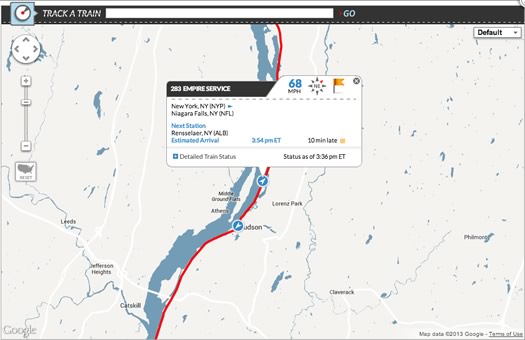 The trains will keep running
The state Department of Transportation announced today that it's worked out a new cost-sharing agreement with Amtrak for passenger rail service in the state. So what? Well, now the trains won't stop running later this month, as was possible if DOT and Amtrak couldn't work out a deal. (A major public institution stopping service because two sides couldn't work a deal, who ever heard of such a thing? Oh, wait...) [NYS DOT] [TU]
DOT says it costs Amtrak $100 million a year to operate the Empire, Adirondack, Maple Leaf, and Ethan Allen lines -- and the state will be picking up $22 million of that. The Empire Service -- between Albany and NYC -- is among the most-traveled Amtrak routes in the nation, but it's revenues didn't cover its expenses as recently as 2011.
And there they go
Also this week: Amtrak unveiled a new interactive train locator map, in partnership with Google. Blurbage:
The new train location tracking system, available at Amtrak.com, provides near real-time train status of more than 300 daily trains, estimates of arrival times and station information - all in the context of the Amtrak national system map. Checking on train status is the second most popular action on Amtrak.com, just after purchasing tickets.
In addition to helping passengers plan travel, this new travel resource is an excellent tool for those planning the arrival or departure of family and friends. Users can search for information by train number or name, city name and station name or code.
That's a screengrab above of the Empire Service from this afternoon.