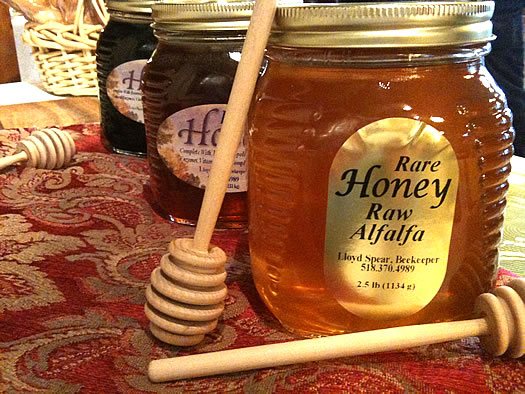 Lloyd Spear, the local farmers' market-famous beekeeper, is retiring from the retail business, according to a message posted on his Facebook page:
To our Loyal, Wonderful Customers:
I am 73 years old and need to reduce my workload, so I will no longer sell honey at farmers markets and other retail locations. October 31 will be our last day in operation.
I will still be selling bees and taking care of my approximately 200 hives. The honey will be sold in 60 pound buckets.
Thank you, thank you. We have tried hard to offer quality products, and your response has been truly wonderful. It has this decision extremely difficult.
Dr. Seuss says, "Don't cry because it's over. Smile because it happened." Please join me.
With Gratitude,
Lloyd
Lloyd Spear honey has been a staple of farmers' markets in the Capital Region, where both Lloyd and his honey won many fans. Last year in an Eat This! for AOA, Daniel B. talked with Lloyd about his honey-producing process, and explained what set his honey apart from the stuff you usually find.
So... it's time smile -- and stock up.
Other local honey? With the news of Lloyd Spear's retirement, Christina asks via Facebook: "Any suggestions for other local honey retailers?"
Hi there. Comments have been closed for this item. Still have something to say? Contact us.