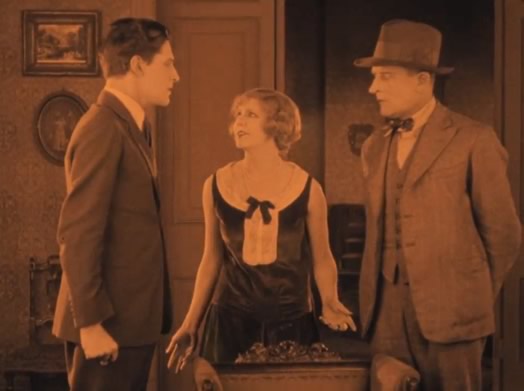 The Albany Public Library's annual "Silent Film Spectacular" series returns this week. Over the course of October it will show classic silent movies -- "from the dramatic to the macabre" -- accompanied by a score performed live by local musicians.
The screenings are the next four Wednesdays in the large auditorium of the APL's main branch on Washington Ave, starting at 7 pm. They're free.
First film up, this Wednesday (October 9): Hitchcock's The Lodger, with score performed by members of Alta Mira, Hand Habits, Maggot Brain, and The Slaughterhouse Chorus.
The full lineup is post jump.
All descriptions via APL.
"The Lodger" with live, original music by Ryan Slowey, Meg Duffy, Sean Fortune, Chris Jordan, and Tommy Krebs
Oct. 9 (Wed) at 7 p.m. at the Main Library
"The Lodger" is Alfred Hitchcock's 1927 film about a landlady who is beginning to suspect that her tenant is a serial killer. Musicians from local bands Maggot Brain, Hand Habits, The Slaughterhouse Chorus, and Alta Mira come together as a silent film supergroup for one night only. Don't miss this killer combination of local rockers.

"The Adventures of Prince Achmed" with live, original music by lastdayshining
Oct. 16 (Wed) at 7 p.m. at the Main Library
This 1926 release is the oldest surviving animated feature film. Director Lotte Reininger uses paper and lead cutouts to illustrate the Arabian Nights story with tinted silhouettes. Albany band lastdayshining is a hard-hitting post-rock band with a sound characterized by expressive instrumental buildups that travel through a range of dynamic changes from quiet lows to bone-crushing highs.

"The Wind" with live, original music by Blacklight Lighthouse
Oct. 23 (Wed) at 7 p.m. at the Main Library
"The Wind" is a 1928 American romantic drama directed by Victor Sjöstrom that features his trademark visual poetry of natural forces and their dramatic role in controlling human destiny. Blacklight Lighthouse is a musical duo that works in the collage mode to create climatic soundscapes using experimental and improvisational analog and digital instrumentation.

"Waxworks" with live, original music by Helicoprion
Oct. 30 (Wed) at 7 p.m. at the Main Library
"Waxworks," a rarely seen film from 1924 by director Paul Leni, is a trilogy of horror stories centered on the wax figures in a carnival show. Helicoprion creates orchestrated and improvised sounds on guitar, bass, percussion, and horns to give the viewer a chilling and multisensory experience.
Yep, the APL advertises on AOA.
still via YouTube user RememberingTheClassics
Hi there. Comments have been closed for this item. Still have something to say? Contact us.