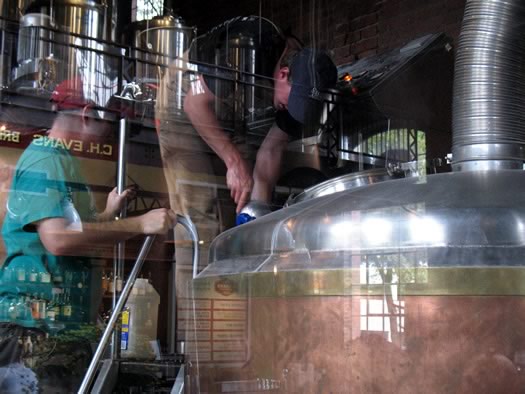 A quick update on the Albany Ale Project: The first cask of resurrected beer will be tapped at an event at the Albany Institute of History and Art November 2. Tickets are on sale now -- they're $15, and must be purchased in advance.
The Albany Ale Project is an effort by beer writers Craig Gravina and Alan McLeod to explore and highlight the history of beer brewing in Albany. It turns out the the city has a rich tradition -- "Albany Ale" was once known far and wide -- but it's faded from memory since the early part of the 20th century.
One of the ways the Albany Ale Project is attempting to bring it back: re-creating old beers. They've teamed up with CH Evans Brewing at the Albany Pump Station to brew resurrected version of beers from Albany's history. The beer that will be released at the Albany Institute event is the first in the series -- it was made from a 1901 recipe for Amsdell's Albany XX Ale. It will probably be the first "Albany Ale" produced in a century.
The event at the Albany Institute starts at 5 pm on November 2. It includes both food and beer. And it's capped at 150 people.
Earlier on AOA: Resurrecting a beer, and part of Albany's history