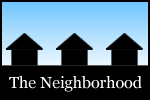 Among the topics in this most recent spin around the Capital Region's online neighborhood: healthy skepticism, getting bitten in the ass, low-cost health care, ghost signs, being eaten alive, Tour de Donut, indigenous Center Square hardwood, Capital City Gastropub, stuck by needles, a birthday dinner, a "dirty" wedding, a day in the life, vintage roosters, and the kaleidoscope of autumn color.
Rob wondered what happened to "the healthy skepticism we count on from reporters and editors."
Stephanie, a new parent: "All of my previous judgments, harsh criticisms, disrespectful comments and general misunderstanding of parenthood has come back to bite me in the ass."
Two questions from Kristi's readers about finding low-cost health care: a psychiatrist and an ob/gyn.
Chuck lamented the impending demise of some ghost signs in Schenectady.
Jona is being eaten alive, and looking for some suggestions.
Daniel shared results (via Steph) from this year's Tour de Donut -- and some of the things he's missing from the Capital Region.
Mr. Dave smoked sausage with "indigenous Albany/Center Square hardwood."
Steve got a look a the remodeled Capital City Gastropub.
Ashley tried a gluten-free doughboy at Esperanto. (And got stuck by a bunch of needles -- not at the same time.)
Silvia and her sons had what sounds like a very nice birthday dinner at Jake Moon.
Jerry went to a "Dirty" wedding.
Albaniana endorsed the Honeycrisp.
A day in Jen's life. In related news: Jen is very busy.
Albany Jane shared pics of some, um, vintage rooster wall paper in the house she and Albany John just bought.
In Charlton, The Bee Balm Gal took a class on how to identify trees.
And Jackie took in the "kaleidoscope of autumn color."
Hi there. Comments have been closed for this item. Still have something to say? Contact us.